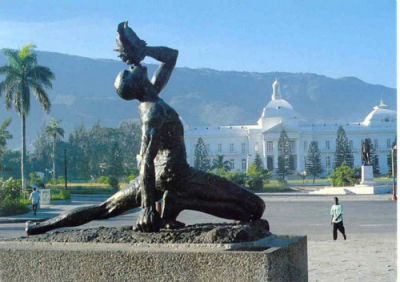 Haiti: There's no such thing as a curse
by
First published, in French at Mondialisation.ca, 15 January 2010
Translated by Sheila Newman
How often do we hear the expression "cursed" in conjunction with Haiti's situation? As if, rather than consider the real political causes, we would rather trust in God. It's easier. Less dangerous.
God doesn't send accounts, after all. God cannot be reelected or not reelected after 4 years. The recent history of Haiti is largely that of a dispossessed country, broken, a country that liberal economics has demolished.
US abolished law stopping foreign-ownership
It wasn't God that landed on the island in 1915 and occupied it for 20 years; it was American marines that allowed Washington to abolish the clause in the Constitution that prevented foreigners from owning businesses in the country. Thousands of inhabitants were dispossessed. Giant plantations were created. Because of an army that was busier fighting its own people than anything else, it was permitted for 1% of the population to own 50% of the resources of the country.
It wasn't God either that supported Duvalier's terrible dictatorship for decades, Duvalier who was more interested in enriching himself than in building a country worthy of the name. It was France and the United States.