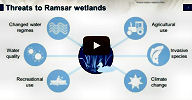 "The governance, coordination and oversight of the management of Ramsar sites must improve overall for Victoria to effectively meet its obligations. Monitoring the implementation of management plans also requires improvement. The recommendations are designed to improve gaps in governance, oversight, coordination and monitoring." (Victorian Auditor General)
In a report tabled on 14 September 2016, the Victorian Auditor General summarised:
Wetlands are a critical part of our natural environment and have environmental, cultural, social and economic value. The Ramsar Convention is an international intergovernmental treaty which provides a framework for the conservation and wise use of designated wetland ecosystems throughout the world. Australia is a signatory and has 65 Ramsar listed sites, 11 of which are in Victoria.