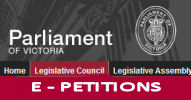 "In Victoria, this practice has started with Banyule Council's deal with Woolworths, who approached council to purchase an additional 828sqm of public land that wasn't on the market.
It introduced the influence of private developers over and above transparency to the public, and puts every piece of public land at risk. The Woolworths deal was well over 2 years in the making before it came to light. Imagine if you discovered that our parklands or even a local park was negotiated for sale 2 years ago - now is the time to act before the precedent is set. Public land should stay in public hands." (Excerpt from petition).
Dear All,
Please sign this e-petition to parliament for this very important issue and forward across your networks.
Prevent local Councils accepting unsolicited land proposals.
https://www.parliament.vic.gov.au/council/petitions/electronic-petitions/view-e-petitions/details/12/364