If we are to survive, we must give up two core beliefs. One is the belief that we are qualified to be wise planetary stewards, and the other is that there will always be technological solutions to the problems that were created by previous technological solutions.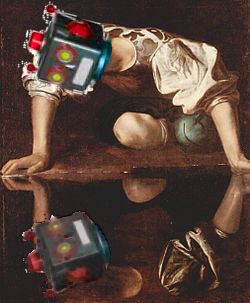 Technology Embraced With Religious Fervor
Technophilia is described in various sources as a strong enthusiasm for technology.
But what many members of our species display goes far beyond enthusiasm.
Starry-eyed technophiles go on animatedly, in what appears to be quasi-religious rapture and hyperbole, about a banquet of opportunities apparently afforded us by our technologies. All the while, they blindly ignore the fact that the horrendous problems we face were created and enabled by technologies in the first place – dead zones and enormous "islands" of plastic in the oceans, soil depletion and exhaustion, massive consumption and overconsumption of resources, emissions and air pollution, hundreds of sites on the planet and specifically in North America contaminated by radioactive waste, and the list just goes on and on.