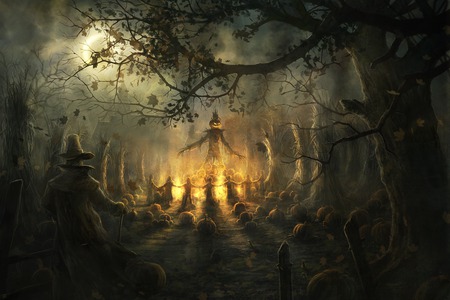 Hallowe'en is an ancient Celtic festival held annually in respect for the Dead - our recent and previous ancestors. It is a ritual festival of honouring those who have gone before us.
Americans have adapted their 'trick or treat' game to this time of year, but the Celtic meaning runs culturally deeper than lollies and kids doing tricks. Our forefathers had to condend with less in worse conditions - they struggled, they survived, they learnt and became wise. Hallowe'en is respect for the wisdom that came before us by our ancestors who have enabled the current generation thrive better than they did.
Traditionally, Hallowe'en is a colloquial abbreviated expression for 'All-Hallows-Even' meaning the evening before All Hallows Day, where All Hallows Day is 1st November. 'All Hallows' refers to all ancestors and a reverence toward them.
Jack-o' Lantern is a carved pumpkin associated with the pagan Hallowe'en feast. The tradition from Britain, Ireland and Celtic Europe involves a pumpkin with a face carved into it and candle light inside to project a ghostly flickering face of our ancestors. It originates from the pagan agrarian tradition in Ireland of using pumpkins as lantern light in the evening while harvesting turf (peat bog) for fuel heating to prepare for the onset of winter.