US Congress Quietly Passes Bill Targeting "Russian Propaganda" Websites By Tyler Durden, Global Research, December 03, 2016, Zero Hedge 2 December 2016.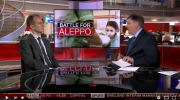 Dr Marcus Papadopoulos was interviewed by BBC News about 'russophobia' in Britain and policy in Syria . Speaking very clearly, Papadopoulos gives a history of British resentment of Russia, dating from the Crimea and thinks that Britain is acting in part out of a feeling of being left-out in the region.
If the downing of a Russian airliner in Sinai was in fact an act of terrorism, Western media's veritable gloating over the murder of tourists is another mark on their long record of shame. (Article first published in Russian Insider on Sat, Nov 7, 2015.