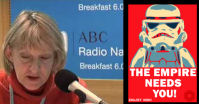 Days of incessant propaganda from the ABC, SBS and all other mainstream media toeing the Trump/US Establishment line on chemical weapons in Syria, without any overt logical basis, prompted the author to make a complaint. David Macilwain was in Syria in 2010, corresponds internationally with diverse people concerned about Syria's rights, and has visited Russia twice in the past three years, in a quest to discuss and share views on current events and to build up contacts who might be interviewed by the Australian press rather than the narrow sample usually referred to.
This morning the ABC's RN breakfast presenter Fran Kelly interviewed a 'former adviser to the Syrian government and Bashar al Assad' – Dr Samir Altaqi - who now lives in Dubai. Ostensibly the purpose of the interview was to find out who might replace Assad once he has been 'removed'. According to the ABC and other Western media, this removal will happen once Rex Tillerson has persuaded Vladimir Putin to stop supporting 'the Syrian dictator'.
Unsurprisingly for a member of Syria's government who has abandoned his own country and moved to one of the West's local allies in the war on Syria, nothing Dr Altaqi said related to the reality of Syria, where the vast majority of citizens now support both their elected President and their defending Army.