Melbourne by-election 2012
I've just been made aware that there is another population aware candidate in the Melbourne by-election tomorrow.

"There is not one independent in the Victorian Legislative Assembly or the Victorian Legislative Council, let alone a RADICAL INDEPENDENT. Power in a democratic society should rest in the hands of the people, not the State, corporate boardrooms or the Government of the day.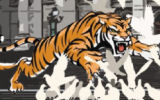 In fortuitous collision of pique, the Greens and Labor have preferenced Radical Independent Dr Joe Toscano ahead of each other in this Melbourne by-election.