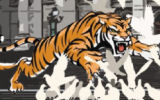 In fortuitous collision of pique, the Greens and Labor have preferenced Radical Independent Dr Joe Toscano ahead of each other in this Melbourne by-election. Toscano has his finger on the political pulse of this nation because he has an in depth knowledge of Australian history and what we have all lost through corporatisation, privatisation, overpopulation and a corrupt public and commercial media. Hopefully many of the public will actually put Joe first. Although Your ABC Radio has shamefully refused to include Joe Toscano or other alternatives in its by-election broadcast from the Victoria Markets on Friday, a parallel but democratic gathering 8.30 to 12pm at corner of Therry and Queen Street, Victoria Markets will give publicity and information about other candidates. Please join it. As the writer of this article and with a strong acquaintance with Joe, I can make no higher recommendation than Vote 1 for Joe Toscano! See below for Joe's platform and how you can help and contact details.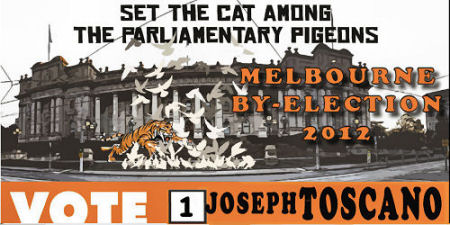 Shameful discrimination against candidates on ABC radio
Amazingly, Your ABC Radio has actually denied Victorians the democratic opportunity to hear Joe or any other alternatives to Greens, Libs and Labor, speak at an ABC organised by-election broadcast from the Victoria Markets on Friday. This writer's surmise is because the powers that be are afraid that the already well-loved long-standing political activist has a good chance of getting in if they just allow the ABC dependent electorate to find out about his existence.
Let's face it; the only reason we are reduced to the pseudo-choice of Lib/Lab/Greens is because of the corrupt media machine that most of us still depend on. Candobetter and other alternatives are so important to break down this monopoly of political messaging.
Two days ago Joe had yet another ABC interview cancelled. Yet Joe is an interviewer's gift. Joe is a medical doctor who visits severely paralysed patients all over Melbourne. He is a leader in events to take back public land, secure housing as a right, and fight the growing economic divide between the poor and the rich in Australia.
Melbourne By-Election Event vital to media democracy
Please therefore come along to the parallel gathering that Joe's supporters will be organizing for 8am to 12pm this Friday 20 July 2012 at the corner of Therry and Queen Street, Victoria Markets. This should be The Melbourne Political Event of the Year but you and I could make it The Melbourne Political Event of the Decade by attending and covering it on every form of alternative media, as well as ringing up the ABC and writing to the papers protesting about their exclusion of a major political force from public coverage.
The title of this parallel gathering is "Government Gelded ABC Sheltered Workshop for the Institute of Public Affairs". If you want to know more about the circumstances that led to this gathering, download today's Joe Toscano podcast. [Check when you go on the site that the podcast is dated July 18; I am writing this as Joe's weekly show goes to air. You may have to wait until later today for the podcast to go up.]
You can verify for yourself Joe's oratorial skills, brains and humour by listening to him on the Anarchist show on 3CR. Anarchism is, as many of our well-educated readers would know, just another name for relocalisation. Joe must be one of few Australian political figures who has an understanding of the importance of different land-use planning systems to democratic and social outcomes.
PLATFORM
"In a time of universal deceit, telling the truth is a revolutionary act" – George Orwell
There is not one independent in the Victorian Legislative Assembly or the Victorian Legislative Council, let alone a RADICAL INDEPENDENT. Power in a democratic society should rest in the hands of the people, not the State, corporate boardrooms or the Government of the day.
Real power no longer resides in Parliament, it lies in the hands of unaccountable corporations that increasingly dictate the Legislative agenda.
As we move from a period of relative abundance to scarcity as a consequence of the domination of the world economy by corporate capitalism an economic system based on the creation of ever increasing profits irrespective of the human, social and environmental costs, the ever increasing consumption of finite resources, increasing population growth and increasing greenhouse emissions as a result of human activity, we require radical changes to the way we govern ourselves, what we produce, how we produce it and how we live.
IF ELECTED
- I would use my position in the Legislative Assembly to encourage people to take DIRECT ACTION – protests, occupations, strikes, sit-ins, consumer boycotts, to ensure their interests are put before the interests of the parliamentary puppet masters, that small section of society that currently owns the means of production, distribution, exchange and communication.
- I would fight to ensure affordable housing is a universal right by defending and extending the public housing sector.
- I would use Parliamentary Privilege to raise in the public arena serious issues that are currently ignored because of the threat of legal action if they are raised outside parliament.
- I would support legislation that protects the individual from the arbitrary exercise of State power and protects internet freedom.
- I would agitate to ensure 1% of Victoria's GST revenue is used to provide seeding funding to set up collectives and cooperatives that would form the basis of an alternative economic system based on co-operation and the satisfaction of real, not manufactured, human needs.
- I would call for a Royal Commission into corruption in Victoria.
- I would agitate for the introduction of a 1% stockmarket turnover tax to ensure the tax base is widened so that sections of society that currently pay voluntary taxation, pay their fair share of tax, so as a society we have enough resources to pay for public education, public health, public infrastructure and public housing.
- I would fight for the establishment of a New People's State owned Bank to reintroduce competition in the banking sector.
We need to replace Representative Democracy with Direct Democratic institutions where the people make the decisions and elect or appoint recallable delegates to co-ordinate those decisions at a local, regional and Federal level so the collective wisdom of the population as whole can be harvested.
Help needed
HELP NEEDED
40 OR SO SOULS WITH NOTHING BETTER TO DO FROM 8:00am to 6:00pm on
SATURDAY 21st JULY 2012
I'm launching the "Set the Cat Among the Parliamentary Pigeons" campaign. This innovative campaign is
directed at the people participating in the Melbourne By-election which will be held on the 21st July 2012. The
main purpose of the campaign is to engage with people on one of the few days Australians think of politics.
The enclosed/attached leaflet outlines the position I'm putting across during the Melbourne By-election
campaign.
The Melbourne By-election covers the suburbs of Carlton, Melbourne, Kensington, Parkville, North Melbourne,
Flemington, East Melbourne and Docklands. There are 14 polling booths which need to be covered on the
day:
. Carlton Primary School
cnr Palmerston and Drummond Streets
Carlton AWA
. Kensington Primary School
McCracken Street
Kensington AWA
. Carlton North Primary School
Lee Street
Carlton North AWA
. Victoria University - City Flinders Campus
L12/300 Flinders Street
Melbourne AWA
. St. Michael's Anglican Church Hall
14 McIlwraith Street
Princes Hill FWA
. RMIT (Canteen)
Building 8 Bowen Street
Melbourne AWA
. The Hub @ Docklands
80 Harbour Esplanade
Docklands AWA
. North Melbourne Primary School
210 Errol Street
North Melbourne AWA
. Dallas Brooks Centre
cnr Albert and Eades Streets
East Melbourne FWA
. St. Joseph's Flexible Learning Centre
385 Queensberry Street
North Melbourne AWA
. Mt Alexander College
167-175 Mount Alexander Road
Flemington AWA
. University High School - Performance Centre
Story Street
Parkville AWA
. North Melbourne Community Centre
Buncle Street
North Melbourne AWA
. Kensington Community Recreation Centre
cnr Kensington Road and Altona Street
Kensington AWA
AWA - Wheelchair accessible with assistance FWA - Fully wheelchair accessible
If you are interested in helping by distributing the leaflet at one of the polling booths;
Email: [email protected]
Write: PO Box 5035, Alphington VIC 3078
Phone: 0439 395 489
to discuss what polling booth you want to cover, the time frame you can cover (hours between 8:00am-
6:00pm) and when and where I can drop off the leaflets to you.
It's important I'm able to finalise these arrangements BEFORE POLLING DAY on SATURDAY 21st JULY.
This is one way you can directly bring new ideas to a significant number of people on the one day and have an impact on their thinking. I look forward to you contacting me ASAP
Joseph Toscano