Here is the Unconventional Economist, Leith van Onselen's talk at the Sustainable Australia Party venue.
Professor Bob Birrell [1] calls for better planning to stop over-development, sustainable population policy reform at a Sustainable Australia Party event.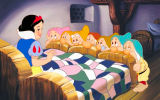 It has almost become commonplace now for prominent environmentalists like David Suzuki to declare that economic growth cannot continue in a finite world. Even Canadian Green Party leader Elizabeth May has been heard to quote Paul Ehrlich's old line that "growth is the ideology of the cancer cell". The problem is, however, that they do not follow this insight through to its logical conclusion.