Zoom Meeting details:
Date and time: Thursday, 7 October 2021 at 6pm AEDT (Australian Eastern Daylight Time)
Join link: V

Brian Walsh, President, Kew Cottages Coalition, today called on Heritage Victoria to halt work at the State Government site overlooking Yarra Bend Park in order to test for the deadly plant pathogen Phytophthora cinnamomi, which appears to be the likely cause of the death a large rare tree, and which has been previously linked to construction works at Kew Cottages. "Stopping the current works is necessary to prevent more damage to heritage listed trees", Mr. Walsh said.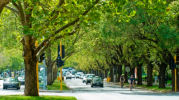 (Submission inside) Plans for the proposed underground railway from north west to south east of the city are not yet finalised.