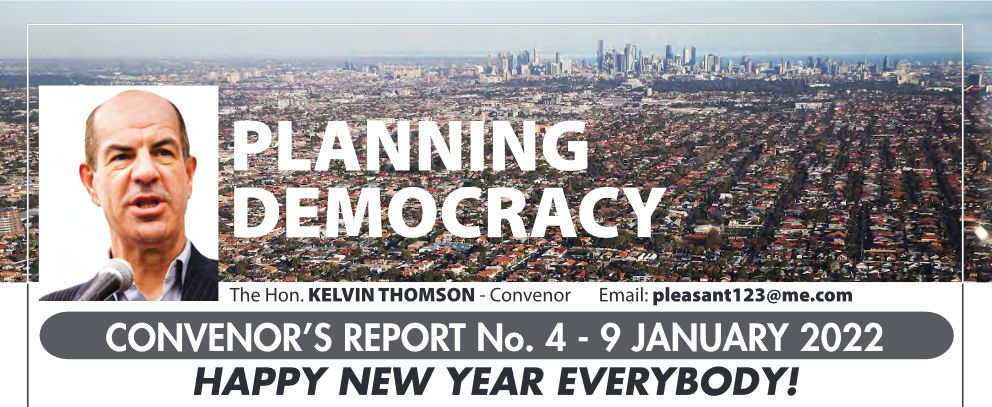 In this issue - 1. Save Lake Knox!; 2. Moreland votes to refuse development at 38 Harrison St Brunswick; 3. Secret plans for Surrey Hills/Mont Albert Railway Station; 4. Heritage Victoria Decision on Wattle Park; 5. High Rise proposed for central Coburg Heritage Church Site; 6. Melbourne's liveability tanks; 7. Kilmore Residents VCAT win; 8. Plans for Poolman House; 9. Boroondara Cycleway proposals update; 10. National Collections left to languish; 11. Bass Coast and Western Port Woodlands; 12. 1AM liquor sales back on the table? 13. Yarra Ranges National Park cycleway update; 14. Coming Events.
1. SAVE LAKE KNOX!
Save Lake Knox is making a concerted push to lift the number of objections to the destruction of Lake Knox to over 1000. Knox Council is currently considering 2 planning applications which would enable the Victorian Government agency Development Victoria to bulldoze Lake Knox for housing. The two applications are P/2021/6169, for a 2 stage subdivision, and P/2021/6170, for a utility installation.
With less than 4% remnant vegetation remaining in Knox and 39% of local flora Critically Endangered, Knox Council's Sites of Biological Significance states that unless preventative measures are taken, we could face an unprecedented collapse in biodiversity. With 450 new dwellings, the site will be intensively overdeveloped, with congestion during peak hours and potential danger in an emergency. Lake Knox should be retained as a sanctuary for the benefit of future generations.
To make an objecVon, simply go to https://forms.office.com/r/X5Nb8hgNvk.
2. MORELAND VOTES TO REFUSE DEVELOPMENT AT 38 HARRISON ST BRUNSWICK
Moreland Council's Planning Committee has voted unanimously to refuse a permit for seven two and three storey town houses at 38 Harrison Street Brunswick East. Council concluded the proposal was an overdevelopment of the site which would lead to the loss of trees and wildlife and have an unacceptable impact on the Merri Creek environment.
My objection to the proposal on behalf of Planning Democracy was reported extensively by the Brunswick Voice. One of the key points I made was that the proposal would lead to the demolition of three heritage significant buildings on the site, including a large studio and stables. I said it was regrettable that heritage protection has declined in importance in the last couple of decades.
This is a good result. The developer should be required to scale down the project to retain the trees and heritage buildings, and contribute more open space. The site is adjacent to Merri Creek parkland, and the open space could create a link between the Merri Creek and other nearby open space.
3. SECRET PLANS FOR SURREY HILLS/MONT ALBERT RAILWAY STATION
The Victorian Government has refused to reveal the plans for the planned new "superstation" to replace the Surrey Hills and Mont Albert Railway Stations. The Surrey Hills and Mont Albert Progress Association wants the footprint, scale and bulk of the new station to be minimised as far as possible, and the building to be in keeping with the residential character and amenity of its surrounds.
However so far the Government has refused to release the plans publicly, making it impossible for local residents to have a genuine say in the design and character of the building. Residents are concerned that even the liftwell of the new station building will be located on the existing road pavement of Beresford Street, Mont Albert. They believe there will be major encroachment and an overwhelming presence adjacent to homes directly opposite, and only metres away. They also have concerns about lack of space for trees or even low level landscaping between the building and nearby homes.
There is a petition calling for the building details to be made public, which you can access and sign at https://www.change.org/montalbert.
4. HERITAGE VICTORIA DECISION ON WATTLE PARK
Heritage Victoria has conditionally approved a permit for works and activities at Wattle Park. The National Trust, Planning Democracy, and local residents lodged objections to the works with Heritage Victoria. Parks Victoria has now removed plans for a path from the Riversdale Road tram stop, which would have damaged the bluestone retaining wall, and the National Trust is reporting the outcome as a win. Heritage Victoria says it is working with Parks Victoria to have proper maintenance done at the Curator's Office, Stables, Curator's cottage and Lily Pond Fountain.
However some local residents continue to express concern about the scope of the approved works, which include construction of a playscape and extensive trail works, and the impact they will have on the heritage value and peace and tranquility of Wattle Park. They are concerned that Wattle Park is being turned into a traffic and transport route, and concerned that the 22 6.5 metre tall light posts in the heart of the park will transform it at night, with negative impacts on wildlife.
5.  HIGH RISE PROPOSED FOR CENTRAL COBURG HERITAGE CHURCH SITE
An application has been lodged with Heritage Victoria as part of plans for two high rise buildings - one 15 storeys, the other 12 storeys - at the Methodist Chapel and Church, 512 Sydney Rd Coburg. The site is on the intersection of Bell Street, regarded as the heart of Coburg, and a location of considerable heritage significance. The buildings are intended to accommodate 219 dwellings. 512 Sydney Road contains the state heritage listed, 1849 bluestone and sandstone former Wesleyan chapel, the earliest in Victoria.
I have objected to the application on behalf of Planning Democracy. To say the new buildings, on a site which is at present single level, and surrounded by other single level buildings, would have an impact on the precinct, is masterly understatement. The new buildings would completely overwhelm the existing buildings, and do irreparable damage to their heritage character.
The Coburg Historical Society, which is familiar with the heritage significance of this site, only found out about the application by accident. It is highly problematic that neither Heritage Victoria nor Councils seem to have a formal process of advising interested parties when they receive applications which will affect heritage-listed sites or buildings. If they are genuine in their claims to want to consult the community, they need to consult Historical Societies and relevant community groups when they receive such applications.
6. MELBOURNE'S LIVEABILITY TANKS
Melbourne was ranked Number 1 by The Economist in its "Most Liveable City" Index from 2011 to 2017. However, resident action groups fighting the various negative impacts of Melbourne's constant 100,000 per annum population growth - congestion, loss of heritage, loss of tree canopy cover, loss of open space - and battling the insatiable growth and development juggernaut that feeds off it, would not be surprised to learn that the 2022 Global Liveability Index sees Melbourne having fallen to Number 10, well off the pace.
As the publication Macrobusiness points out, the rankings by The Economist should be taken with a large dose of salt in any event. It is geared to the priorities of corporate executives. A more relevant Index is the Mercer Quality of Living Index, which looks at which cities provide the best quality of life. It doesn't have any Australian city in the top 10. The cities which do make it into their top 10 are almost universally around 1 or 2 million people in size, which enables them to provide high quality services without turning into concrete jungle nightmares.
7. KILMORE RESIDENTS VCAT WIN
The Kilmore and District Residents and Ratepayers Association have had a win at VCAT, with the Tribunal supporting Mitchell Shire's decision not to grant a permit for an additional 12 single storey dwellings on land at George Street Kilmore. Council said the proposal failed to positively contribute to and respect the existing and preferred neighbourhood character of the area, was not consistent with the Kilmore Structure Plan, was at odds with the equine character of the area and would conflict with equine activities.
8. PLANS FOR POOLMAN HOUSE
Developers have purchased historic Poolman House, on the corner of Domain and Punt Roads South Yarra, and lodged plans to build a 3 storey hotel and restaurant on the existing tennis court. The application seeks a capacity of 500 people on the site.
The Melbourne South Yarra Residents Group believes that this project will be a disaster. Noise will be a major problem for nearby residents, while traffic and parking will be wider problems. The proposal is over 50 car parking spaces short of the number set out in Council's planning guidelines. Car spaces out the front of the premises on Domain Road will be removed from community use. The Club operators say they will encourage the use of taxis and Ubers. However this will add to traffic congestion around Domain Road and Punt Road, which is already notorious.
The application is known as TP-2022-161, and the Melbourne South Yarra Residents Group is encouraging people to lodge objections to it. The development was reported in The Age at https://www.theage.com.au/naVonal/victoria/soho-or-no-go-neighbours-wary-of-plan-to-turn-mansion-
into-celebrity-zoo-members-club-202111201-p59dqd.html.
9. BOROONDARA CYCLEWAY PROPOSALS UPDATE
Ian Hundley has continued to scrutinise proposals for cycleways in Boroondara parks. He recently asked Council whether, following its decision to abandon a plan to construct a cycleway through Greythorn Park, it would now agree not to construct an extended cycleway through other parks in North Balwyn, including Jacka Reserve, Gordon Barnard Reserve, Hislop Park and Macleay and Myrtle Parks. He has also sought clarification on likely future cyclist numbers.
Ian also had an article published in Eastsider News about the issue, where he noted that opening up these areas to cycling would cause the permanent loss of quiet parkland in which people can walk and relax in relative peace and with minimal threat of injury.
Kew East resident Pat Hillman has also had an article in Eastsider News expressing opposition to the proposed cycleway, particularly as it impacts on Stradbroke Park. Stradbroke Park is the site of an urban forest which had its origins in 1988 with a joint venture between the then City of Kew and the Rotary Club of East Kew. The urban forest is popular and safe for walking by people of all ages and abilities.
Ian Hundley has also drawn attention to the increasing use of e-scooters in public spaces. Currently they are not permitted on public roads in Victoria. However there are people who own them and use them, at speeds of up to 50kph. I think there is a need for Councils and the State Government to address their apparent rise. I would welcome any thoughts readers have on this topic; it seems to me that they should not be allowed to become a danger to the safety of either pedestrians or riders.
10. NATIONAL COLLECTIONS LEFT TO LANGUISH
Gideon Haigh has written a detailed report in The Australian (Weekend Australian June 18-19) lamenting the poor state of Australia's heritage collection and preservaVon institutions. He refers to the National Library, the National Gallery, the National Museum, the National Archives, the National Film and Sound Archive, the National Maritime Museum, the National Portrait Gallery and the Museum of Australian Democracy.
Gideon reports that their budgets have been shrinking, and their staff cut by between a third and a fifth. He says storage facilities are inadequate, and that these bodies have become the victim of political appointments to their Boards, rather than being run by historians, curators and librarians prepared to speak out in support of their work and their importance.
Gideon is critical of both the record of conservative and Labor Governments in this area. He says that conservatives claim to be proud of the national achievement, but fail to support the institutions charged with capturing and preserving it. But he is also critical of the record of the Hawke Labor Government, and its public service "efficiency dividend" applied inappropriately to these institutions, and critical of the Rudd and Gillard Governments for failing to act on the 2008 Report of the Joint Committee of Public Accounts and Audit which pointed out this problem.
11. BASS COAST AND WESTERN PORT WOODLANDS
Neil Daly and Anne Heath Mennell are continuing their work to protect the Bass Coast and the Western Port Woodlands. Neil had an article published in the Bass Coast Post, urging Victorian Opposition Leader Mathew Guy to become interested in developing a Western Port Strategic Management Plan. He also takes outgoing Planning Minister Richard Wynne to task over his approval of a massive expansion of Grantville's sand mining operation.
The Victorian National Parks Association publication Park Watch criticised the State Government's failure to include the Western Port Woodlands in its Draft Distinctive Areas and Landscapes report for the Bass Coast. The VNPA described this as an incredibly huge oversight by the Department of Environment, Land, Water and Planning. It and the Save Western Port Woodlands group had previously prepared a report titled "Western Port Woodlands: Wildlife Corridor or sand pit?" This report outlined the significance of the endangered species found in what is the largest patch of intact coastal woodlands on the Bass Coast in an otherwise heavily cleared landscape.
12. 1AM LIQUOR SALES BACK ON THE TABLE?
In 2008, to its credit, the Victorian Labor Government under Premier John Brumby responded to late night CBD violence by stopping the issuing of liquor licences that would allow venues to serve alcohol past 1am. To nobody's surprise, the measure has been a success.
Regrettably, Residents 3000 report that hospitality venues are trying to have the freeze lifted - a classic case of large businesses putting their profits ahead of the health and safety of local residents. Residents 3000 President Rafael Camillo said that allowing people to drink past 1am was definitely not the way to go, and that the whole reason for the freeze was about safety. He said "It's frustrating that after all these years and with enough evidence we are still discussing these issues".
The COVID pandemic should not be used as an excuse to dump a policy that has saved lives. The big hospitality venues might think their profits more important than community safety, but the City of Melbourne and the State Government need to put the residents first.
13. YARRA RANGES NATIONAL PARK CYCLEWAY UPDATE
The Victorian National Parks Association continues to campaign against a cycleway in the Yarra Ranges National Park. They advise that public hearings into the Warburton mountain bike tracks made clear that the proposed track network is a great risk to the park and the values it protects, and is not supported by community members, ecologists, or land managers.
One aspect of the proposal that is worth understanding is that the proposed areas of track are very steep - they are described as "heroic", and simply too difficult for the average recreational cyclist to use. Their use will be restricted to a relatively small group. While it is reasonable to build the majority of the track, which lies outside the National Park, it is reckless and short-sighted to encroach on the Park itself.
14. COMING EVENTS.
Sunday 17 July - 10am to 3pm. National Trust Makers Market. Marquees hosting a selection of local makers, crafters and growers. The Rose Street Market, being held at Ripponlea Estate.
Wednesday 20 July - 9am to 12.30pm. Maribyrnong Riverkeeper Strategy Workshop. Have your say on the idea of a Riverkeeper for the Maribyrnong River, at the Maribyrnong River Conservation Strategy Forum. Essendon Rowing Club, 48 The Boulevard, Moonee Ponds. To register, or for more
information, contact Nicole at [email protected].
Saturday 30 July - 1pm to 5pm. Ratepayers Victoria Inc. State Conference and Forum "Road Rates Rubbish? The real Identity Crisis facing our Councils". Venue Woodside Room Monash Uni Clayton, All welcome, Admission $10, payment on confirmation of registration, includes afternoon tea. To register, contact ratepayersvictoria.com.au.
Saturday 10 September - 10am to 12 Noon. Planning Democracy Tree Canopy Cover Forum. The old Council Chamber at the City of Kingston Arts Centre. Ian Morgans is continuing work on this much-needed event.
That's all folks. Keep up the good work!