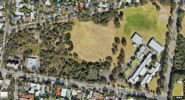 Citizens wearing #ff0000">red - to show anger - at the school site at 6:45 a.m. on Monday, 24 October 2016 will deplore the 229 trees' axing, after Government's secretive, anti-environment prelude to its attack. The State Government knew full well that all of Victoria's municipal councils would be in caretaker mode when they arranged the present scheme for removing the 229 trees proposed. In that mode, the Council could not take out an injunction. The term of all Bayside City councillors ends today, at the declaration of the poll. The new Council cannot act until it first meets and its councillors have taken the oath, or affirmation, of office. It seems the deadline for lodging an application for that was 2:00 pm yesterday. The work is scheduled to start at 6:45 am on Monday. The Beaumaris Conservation society has a campaign site to retain the Secondary College open space and vegetation.
State government drives population growth that drives the concreting over of our children's environment.
Although state governments throughout Australia have been doing the bidding of the property development lobby by inviting more and more immigrants since Kennett, there could be even more to this. When we hear of the proposed cutting of a small forest on the grounds of Beaumaris Secondary College, we wonder if the international student flood that is supplanting Australian students in universities has now got to secondary and primary schools - even the government ones. Prime Minister Mr Turnbull's outrageous new visa rort to attract foreign primary school students to Australian schools will likely motivate schools to reduce their grounds to increase profits by increasing paying students. Even in government schools. It is just another form of land speculation, with children the currency of exchange. Is this a threat to free education in Australia?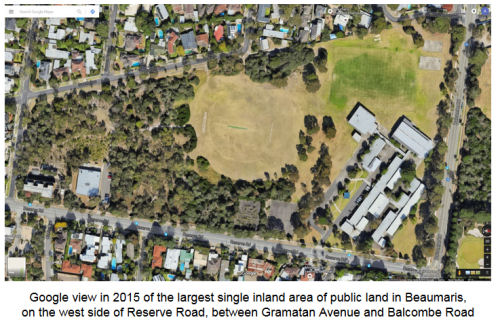 From July 1, 2016 students aged six and above would be able to apply for student visas regardless of their country of citizenship – and their guardians can also apply for Guardian visas (subclass 580)…

These visa-rule changes, which were announced during Prime Minister Malcolm Turnbull's visit to China in April, also mean non-residents can buy several new properties or one existing property…

Dave Platter, from the leading Chinese international-property portal Juwai.com said there has been a nearly 20 per cent jump in inquiries for properties in Australia since Mr Turnbull's announcement…
The Beaumaris Conservation society notes that "An email from the Victorian School Building Authority, and its website page each propose the same list of replacement plants, very many of which are not indigenous to Beaumaris and will clash with and water down the present strong and highly-regarded indigenous character and beauty of the continuous bushland corridor, interrupted by only two roads, that consists of the nearby Beaumaris Reserve, the Long Hollow Reserve, the Secondary College, Balcombe Park, and Royal Melbourne Golf Club's west course.
Before and after the second world war, Australians were known for their strong and healthy bodies. Tennis courts and bushland abounded. But as we are forced into a more and more densely urbanised society by a spineless breed of planners, our children can only look forward to less. The forest at Beaumaris, as well as being paved over, will be replaced with sports grounds. As one who remembers taking refuge and pleasure in the trees at my school, and the horror of organised sport for a person of small stature, I cannot help but imagine the sadness of children with nowhere to escape from organised activities in such a new school.