(Title previously was "Britain and America's Betrayal of democracy in Greece". - JS 7/8/2019)
Order The Kapetanios (1772) by Dominique Eudes from Monthly Review Press for US$20.00 + postage.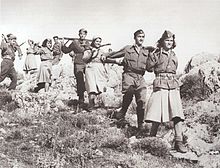 I think the ABC Radio National program, Rear Vision, (see inside) owes to the Greek people and to its Australian audience to tell the truth about Greek history. The account of the Greek Civil War (see Appendix 1) is untrue. The Greek Communist Party led the resistance to the German occupation and had overwhelming support of the Greek people. In 1944, the British tricked the Communist partisans into disarming whilst they secretly re-armed those who had collaborated with the Germans against fellow citizens. They were able to do this because of the betrayal of the Greek Communist Party and the unquestioning support for Stalin by the Greek Communist Party. The Greek Communist Party abused its support from the Greek people to convince then to lay down their weapons. The result was a massacre of the most patriotic Greeks by former German collaborators whilst the British looked on. At this time, the heroic partisan leader Aris Velouchiotis was murdered by collaborators. He died in the knowledge that the Greek Communist Party leaders that he supported had denounced him as a traitor for refusing to lay down his arms.