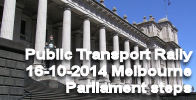 Protectors of Public Lands Victoria has issued an invitation to concerned Victorians to attend a short but concentrated rally scheduled for 12:45 pm for a 1 pm start to 2 pm on Thursday 16 October 2014 on the steps of Parliament in Spring Street.
The last day of the term of the 57th Victorian Parliament has been chosen before the 29 November 2014 election. The subject is "The Future of Public Transport in Victoria under an Incoming Government." We are of the view that the East West Link project should be abandoned.
Below is our "Charter on Public Transport" which includes our demands. (The President of the PTUA has cleared it.)
Labor and Greens Members of Parliament will speak, also the Mayors of Yarra and Moreland and the President of the Public Transport Users' Association. Representatives of community groups will be invited to speak on open mike. Please attend this rally - we need your support at this crucial time in the State's history!
Contact Julianne Bell Secretary PPL VIC Mobile: 0408022408 jbell5[AT]bigpond.com
Protectors of Public Lands Victoria Inc. (PPL VIC)
CHARTER ON PUBLIC TRANSPORT FOR INCOMING VICTORIAN STATE GOVERNMENT
Presentation of Charter on Public Transport for Incoming Government at Rally 16 October 2014
This Charter on Public Transport for the incoming Government will be presented to the public and to present Government and Opposition parties at a rally scheduled for Thursday 16 October 2014 on the steps of Parliament at 12:45 pm for a 1 pm start. The rally has been timed for the last day of the term of the 57 th Victorian Parliament before we head for the 29 November 2014 election. (We are circulating this document beforehand.)
Overview/ Context of Production of a Charter on Public Transport
According to Plan Melbourne Metropolitan Planning Strategy May 2014, which "sets out the government's vision that will guide the city's growth to 2050", public transport should play a much greater role in future than it has in the past, with reliance on public transport needing to increase (i.e. a greater proportion of all trips will need to be taken by public transport). (Plan Melbourne, p. 84)
In spite of this telling observation in Plan Melbourne, Melbourne is at crisis point because of the failure of successive governments to provide for integrated transport and land-use planning.
Charter Requirements to be fulfilled by an incoming government:
1. Extension of heavy rail services to areas currently un-serviced or under-serviced, including Doncaster, Melbourne Airport, Rowville, Mernda and Clyde.
2. Abandonment of the Napthine Government's discredited East-West Link project.
3. Dedicated funding for public transport on a priority basis by the Victorian and Commonwealth governments, not just "what is left over" after commitments to roads projects.
4. The progressive grade separation of 50 level crossings to facilitate higher frequency services on the heavy rail network.
5. The introduction of high capacity signalling as a priority on the whole heavy rail network to improve rail services productivity by up to 50%.
6. Higher frequency train, tram and bus services to be timetabled to connect with minimum waiting times.
7. Expansion of bus services, especially in Melbourne's outer suburbs, to improve local economic performance, enhance employment and social connectedness.
8. More effective demand management of the road network by state and local roads authorities, including walking to school programs that work and expanded cycling networks.
9. In the west of Melbourne, an effective roll-out of the Regional Rail Link in April 2015 with high frequency connecting buses at the new Wyndham Vale and Tarneit Stations and additional connecting buses for the Werribee line and major transport destinations in the cities of Wyndham, Maribyrnong, Brimbank and Hobsons Bay.
10. The early introduction of truck ramps on the Westgate Bridge to facilitate access to the Port of Melbourne and the enhanced use of rail for container movements between the Port of Melbourne and freight terminals.
11. A start on the Melbourne Metro Rail project on the alignment proposed by the previous Labor Government, serving locations in the CBD and in the Parkville medical and university precincts. (The Napthine Government's recent plans for an alignment designed to serve the Fisherman's Bend development has not been subjected to the necessary scrutiny.)
12. Elimination of tax concessions for private passenger motor vehicle use which are a major cause of road congestion.
13. The establishment of an independent and effective public transport agency to prioritise, plan, fund and deliver all public transport services, thereby maximising the social and economic return to the Victorian community from investments in public transport infrastructure.
14. Guaranteed provision of properly maintained public toilets at railway stations meeting health and safety regulations and designed to improve the amenity of travellers.
15. An end to government secrecy in the provision of transport services, including the non-transparent contractual arrangements for the provision of train, tram and bus services, which are not able to be properly scrutinised and assessed because of the "commercial confidentiality" hoax; the opaque funding and provision of major roadways, for example CityLink, EastLink and PeninsulaLink; and the unacceptable constraints imposed upon the Auditor-General in discharging his responsibilities to report to the Parliament on transport contracts.
Signed:
Julianne Bell, Secretary, Protectors of Public Lands Victoria. Mobile: 0408022408. jbell5[AT]bigpond.com
Ian Hundley, Advisor to PPL VIC on Public Transport. ianhundley[AT]hotmail.com