#E0FFE0;line-height:120%;">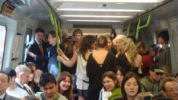 A report released by the Federal Bureau of Infrastructure, Transport and Regional Economics underlines just how inadequate and incompetent Melbourne's recent planning has been.
The report analysed population growth, jobs growth and commuter flows in Australia's four largest cities. It found:
1) Melbourne was the only city in which jobs growth in the outer suburbs had failed to keep pace with the population boom. Parts of outer Melbourne now have less than one job for every three working people, forcing residents to commute further for employment.
2) Eighty-four per cent of outer Melbournians drive to work, the highest level among Australia's biggest cities, and just 9% use public transport.