Human exposure to 1080 is very severely restricted by law, for obvious reasons. The same does not apply to other species in baited areas. The major animal welfare concern over the use of 1080 relates to its extreme cruelty and its lack of an antidote. The major environmental concern relates to its effects on non target animals, either through ingestion of baits or by secondary poisoning.
Article by Sheila Newman with Maryland Wilson, President, Australian Wildlife Protection Council (AWPC)
1080, sodium fluoracetate, is all bad news
1080, sodium fluoracetate- for which there is no antidote, is cheap and easy to use, but a cruel solution.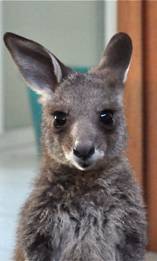 (Photo of Eastern Grey joey, "Acacia," by Brett Clifton.The late Dr Peter Rawlinson La Trobe University zoologist stated in 1987 (as an Australian Conservation Foundation Councillor):