In the US Presidential race, both roads lead to financial collapse, resource depletion, war, irreversible climate change, species extinction, chaos, despair and hopelessness.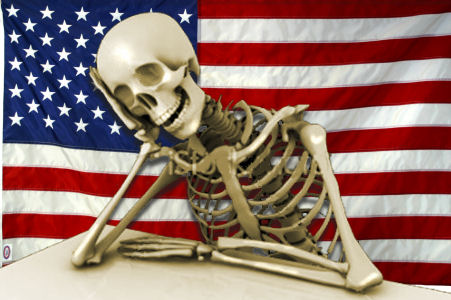 Listen up my American friends:
The Time Is Ripe For This Man To Lead Your Exceptionally Debt-Ridden Nation!
Promising a "lean and mean" hands-off do-nothing limited government, the late Chris Clugston ponders America's future as the first posthumous President to occupy the Oval Office (February, 2013).
The Presidential election is but one week away. In just one week, Americans will be going to the polls to elect THE LEADER OF THE FREE WORLD.
As a duly paid up member of that world, I therefore feel entitled to stick my nose in it---despite lacking American citizenship. Alas, I have a "voice" , but no vote. I therefore delegate that awesome responsibility to you. You have it within your power to make a choice that will affect untold generations ahead.
You stand at a critical junction, and must choose to take one of two roads.