Hasaka, SANA-The Turkish regime on Thursday went too far in its aggression on Syrian territories in Hasaka, Raqqa and occupied Tal Halaf, penetrated into Allouk and Katsho villages in the surroundings of Ras al-Ayn and the Industrial region in the city. Meanwhile, the Turkish aggression targeted a number of villages and towns in the countryside of the two cities, concentrating on infrastructure, and vital utilities like water, electricity, dams, oil facilities and residential neighborhoods, and leaving a number of civilians martyred in addition to a huge destruction in properties and infrastructure.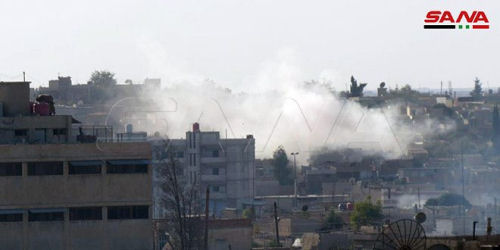 Earlier, SANA's reporter in Hasaka said that the Turkish regime's forces continued their aggression with artillery and warplanes on Ras al-Ayn and al-Qamishli cities in Hasaka countryside, and Ein Issa area in Raqqa northern countryside.
Later, the reporter said that a child was martyred in an attack by Turkish regime forces with rocket shells on Qadour Beik neighborhood in Qamishli.
He added that a number of civilians were injured in a Turkish aggression on the western neighborhood of Qamishli through artillery.
Meanwhile, Allouk water station in Ras al-Ayn city went out of service due to a second Turkish aggression on the electrical cables of the station.
Earlier, the reporter said the Turkish regime's forces have been targeting with warplanes and artillery the city of Ras al-Ayn, claiming the lives of 5 civilians and injuring 9 others, in addition to carrying out artillery strikes and airstrikes on the villages of Naddas, Alouk, Hamid, and Tal Arqam in the city's countryside, in addition to targeting Saeeda petroleum station on the borders with Turkey, which led to it burning down completely.
The Turkish regime's forces targeted with rockets the town of Ein Issa in Raqqa's northern countryside, causing material damage.
SANA's reporter also said that 3 civilians were injured and dozens were injured as a result of the Turksih regime forces targeting cars on the road between Raqqa and Tal Abyad.
On another note, the reporter said that 100 US soldiers withdrew from Syrian territory in two batches, heading to Iraq along with dozens of vehicles, while ten US officers and a number of foreign experts left the illegal US base of Rumailan and headed to Iraq.
Meanwhile Qasad (SDF) militias continued their oppressive practices against locals, storming dozens of houses in Tal Tamer village in Hasaka countryside, detaining youths to forcefully recruit and send them to conflict zones, and the families of the detainees gathered in front of Gwairan Prison demanding the release of their sons.
On Wednesday, 8 civilians were martyred and 20 others were wounded in a Turkish aggression on Qamishli, Dibasyah and al-Mishrafah in Ras al-Ayn in Hasaka countryside which also targeted service facilities and infrastructure , such as dams and electricity and water plants.
Originally published as "Turkish regime goes too far in its aggression on Hasaka, Raqqa and penetrates into Ras al-Ayn," at https://sana.sy/en/?p=175350, English Bulletin on 10 October 2019.