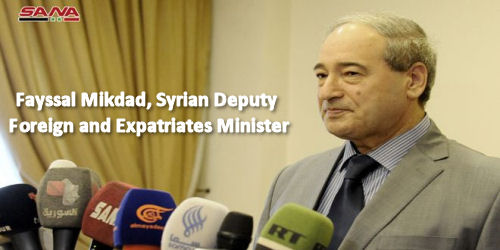 Damascus, SANA-Deputy Foreign and Expatriates Minister, Fayssal Mikdad, described the hostile war launched by the Turkish regime on Syrian territories as "invasion," saying that attacking a sovereign, independent country is considered as an outrageous act against the UN charter and international law which flagrantly contradicts Security Council relevant resolutions. "The Syrian Arab Army, which confronts the terrorist organizations, will confront the foreign invading forces which are present illegitimately on the Syrian territories and it is ready to face all challenges to which Syria is exposed," Mikdad said in a press statement at the HQ of Foreign Ministry.
He added that the history will hold Head of the Turkish regime, Erdogan, responsible for being a war criminal who has perpetrated all crimes against the Syrian people.
"A liar and a reality forger has no right to claim that he defends the Syrians or accuse the others of crimes he has perpetrated against the Syrian people," Mikdad said.
Mikdad affirmed that the Syrian army has confronted the Turkish aggression on Syria since the beginning of the terrorist war on the country in a lot of sites and it fought the terrorists who were supported and armed by the Turkish regime.