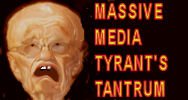 News Limited is the main perpetrator of media abuses in Australia, writes Alan Austin, and hence the strongest proof the current self-regulation system is useless. (Article originally published on Independent Australia, from which we republish it with thanks. See end article for details.)
AFTER Rupert Murdoch's chickens came home to roost spectacularly in the UK, his emus are scuttling about in Australia.
The entire Australian organisation is attacking the Federal Government over proposed legislation to strengthen media self-regulation.
Absolutely predictable. News Limited is the main perpetrator of media abuses in Australia.  And hence the strongest proof the current self-regulation system is useless. Naturally, it will squeal when called to account.
Intriguingly, we are seeing precisely the same tactics deployed against the Minister for Communications Senator Stephen Conroy and his proposed rule changes as gave rise to the need for them in the first place.
News Corporation in the UK now admits to having hacked the phones of a murdered schoolgirl, and of countless public figures, and of deceased servicemen and their families. All this they denied for years with point blank lies.
They have been found to have fabricated damaging stories about their enemies and suppressed stories damaging to their friends. They have been caught using criminal means to obtain information, including pay-offs to police. These they also lied about for years.
Several British editors and executives have now been sacked, others jailed or charged, and a newspaper shut down in shame.
In the USA, Murdoch's Fox News is notorious for distortions, omissions and fabrications in political reporting.
Outlets there bow to the whims of Rupert Murdoch regarding content. But the man himself is unaccountable.
Downunder, Justice Bromberg found Australia's most widely read columnist Andrew Bolt guilty of multiple fabrications in Melbourne's Herald Sun. The Federal Court judge found Bolt had no evidence for more than 19 damaging lies in his racially-motivated attacks against vulnerable Aboriginal people.
This was not a first for Bolt. For years, he has waged campaigns against Aborigines and others based on falsehoods. He has been admonished by academics regarding his persistent refusal to write accurately about climate. He was found guilty of "very, very serious libel" in 2002.
No other media organisation in any other civilised nation would employ Bolt as a journalist.
Just a year earlier, Justice Stephen Kaye in the Victorian Supreme Court slammed Murdoch executives for lying to the court. In the matter of Bruce Guthrie's wrongful dismissal, the judge said he "had reservations about a number of features" of the evidence of News Limited's then chief executive John Hartigan.
"In my view Hartigan was an unreliable witness …"
Kaye was even more scathing of Herald and Weekly Times chief Peter Blunden. "The explanations given by Mr Blunden in evidence," the judge said, "do not survive scrutiny".
In the matter of Eatock v Bolt, Justice Bromberg also rejected the testimony of Murdoch executives.
The conclusion is inescapable: News Corporation is an organisation run by liars who employ lying editors to supervise lying reporters.
The Media, Entertainment and Arts Alliance has a 12-point code of ethics. All twelve are now routinely violated by Murdoch employees.
In 2010, Herald Sun reporters lied about their identity to ensnare politicians in a British tabloid-like sting. They had the support of editors and executives — despite explicit condemnation in the code.
Most Murdoch publications are now merely spruikers for conservative political causes which they advance with distortion and lies. The frequency and viciousness of these crusades increased markedly after Labor came to power in late 2007.
In 2008, Glenn Milne in The Australian attacked PM Kevin Rudd over a risqué play in Gippsland which the local Labor candidate had promoted in his newsletter. Milne failed to disclose, however, that the tawdry theatrical event was actually approved and funded by the previous Howard Coalition Government.
Glaring examples since then are the relentless campaigns against the economic stimulus packages during the GFC, against climate change, against the mining tax, against the carbon tax, against internet security, against changes to discrimination laws and against the National Broadband Network (NBN).
Sydney's Daily Telegraph was found by the Australian Press Council to have used false customer figures in a news story on the NBN. Other Telegraph articles were found misleading by serious omission. The Council expressed concern that
'within a short period of time three articles on the same theme contained inaccurate or misleading assertions.'
The Daily Telegraph ran a front-page story headed: "Thousands of boat people to invade NSW".
The Australian Press Council found elements of the story to be "gravely inaccurate, unfair and offensive".  The Council condemned the newspaper for "an especially serious breach of its principles."
Murdoch outlets have attacked the PM ruthlessly over her alleged involvement with a union two decades ago. They have produced no evidence whatsoever of anything amiss and were forced to retract and apologise at least twice.
They have constantly attacked the Treasurer Wayne Swan who, according to external assessment, has done a better than average job.
The last four years "have been disastrous for Australians," claimed The Daily Telegraph in 2011. "There have been broken promises, billions lost in wasteful spending and economic mismanagement and sheer incompetence."
This was the month Australia gained its AAA credit rating with all agencies for the first time ever. And shortly after The New York Times reported "Australia's economy has been booming".
In February last year, The Australian ran a cover story headed "Mutiny kills PM's Bob Carr plan". It contained at least six "revelations" relating to the appointment of Bob Carr as Foreign Minister. All six were soon proven to be fabricated.
Murdoch publications have campaigned against all Labor state governments. News reporters at Brisbane's Courier-Mail were instructed to use the news pages to drive a campaign targeting then Premier Anna Bligh.
The campaign against the Greens, and former leader Bob Brown in particular, has been particularly vicious.
An editorial in The Australian declared:
'We believe he (Brown) and his Green colleagues are hypocrites; that they are bad for the nation; and that they should be destroyed at the ballot box.'
These are not just vigorous campaigns confined to the opinion pages — something that would be not so objectionable. But rather these are crusades fought with distortion and lies in the news content.
Can anything be done? Former employee Bruce Guthrie – who defeated News Limited in court in 2010 – believes 'you can bite back against Murdoch'.
Senator Conroy seems to be attempting exactly that. Will he succeed? We shall see.
(This story was first published by the Australian Independent Media Network and was offered to IA by the author.)


This work is licensed under a Creative Commons Attribution-NonCommercial-NoDerivs 3.0 Australia License