Climate Ark: Will virtually every remaining intact ecosystem be razed to access every last bit of oil before we transition to lower energy use, a low carbon economy and renewable energy?
The US federal government's response to this crisis must start with containing the spill and cleaning up the gulf, but it cannot stop there, the group said. It also needs to implement comprehensive climate and energy policies that address U.S. oil addiction.
Since 1991, oil production on U.S. land and in Alaska has dropped 40 percent, but it has nearly doubled in the Gulf of Mexico, according to federal statistics.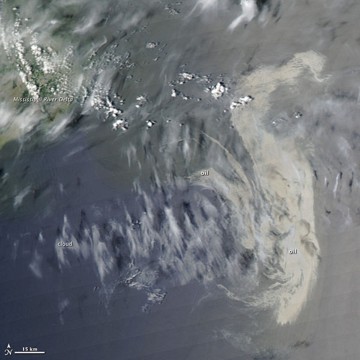 (Photo: Tuesday afternoon, May 11, shows that the damaged Deepwater Horizon oil well continued to leak significant amounts of oil in the Gulf of Mexico. Oil slicks become most visible in photo-like satellite images when they appear in a swath of the image called the sunglint region—where the mirror-like reflection of the Sun is blurred by ocean waves into a washed-out strip of brightness. source Wikimedia commons)
New estimates are the Gulf Oil Spill is leaking at least 10 times the amount of oil as previous estimates of 5,000 barrels (210,000 gallons, or 795,000 litres) a day, meaning the ongoing spill already far exceeds the Exxon Valdez accident.
(In 1989, within six hours of the grounding, the Exxon Valdez spilled approximately 10.9 million gallons of its 53 million gallon cargo of Prudhoe Bay crude oil).
The gulf oil leaks could gush for years, further fouling the Gulf, Mexican and Atlantic Coasts. The spill threatens fragile ecosystems and is severely impacting the local economy, particularly fishing.  It is clear key safety features at tens of thousands of U.S. offshore rigs are barely regulated.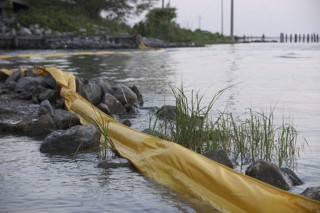 (Photo: May 4, 2010) Miles of floating barriers are put in place around Mobile Bay and other sites in the Gulf of Mexico to protect the coastline from a growing oil slick approaching the area from the Deepwater Horizon oil spill. U.S. Navy photo by Chief Mass Communication Specialist Joe Kane/Released to Wikimedia commons)
BP has shown it lacks the necessary capacity to handle the spill, as capping the leak has taken too long, and the clean-up will be massive.  Given the extent of the ongoing spill, and the potential for the spill to spread more widely during the hurricane season, the federal government must immediately nationalize the spill response and take the lead in capping the leak and containing the spill. BP and the oil industry can still help and pay for the full response including whatever restoration is possible in the long-run. History often shows that adequate regulations are on the books, but that they are not always enforced. Making sure the government can do its job — not rewriting the rulebook — might be all that is needed.
Despite President Obama's recent sharpening of populist rhetoric against oil companies, the U.S. government led by President Obama has until now failed to act aggressively. The full might of the U.S. government must be brought to bear to stop the leak, contain the spill, and clean coasts. If we bailed out the banks, car companies and others; clearly it is worth a billion or ten to hold onto a Gulf ecosystem that is as minimally ravaged as possible.
The Gulf Oil Spill is a clarion call to implement comprehensive climate and energy policies that address U.S. oil addiction.  It is estimated that that expanded offshore drilling in the Atlantic and Gulf Coast regions would provide less than a two-month supply of fuel. Instituting stronger fuel economy standards and support for expanding transportation choices would save many times this amount.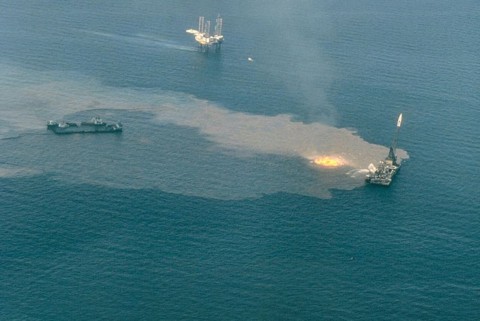 (Wikimedia commons)
The first step is to ensure offshore drilling does not accelerate. Senator Bill Nelson of Florida has introduced legislation to repeal Obama's executive order to expand offshore drilling. West Coast lawmakers announced a proposed ban on offshore drilling along their states' coastlines. Yet President Obama continues to promote offshore drilling, including within the climate bill. This must not stand. President Obama must be beseeched upon to change his policy in regard to offshore drilling.
But as the devastation from BP's Deepwater Horizon oil disaster widens, the two lawmakers agree on one thing: It is no reason to halt drilling in the Gulf of Mexico!   In Louisiana, the sector provides more than 300,000 jobs and handles about a quarter of the oil and natural gas consumed in the United States, according to industry estimates.    Local Republican and Democratic politicians say they try to balance the interests of the industry and of conservationists while being mindful of the central role the region plays in supplying oil and gas to the rest of the nation. (The same old arguments - jobs and economic benefits "balanced" against environmental concerns, but always the scales swing in favour of the mass markets, profits and power).
To expect there will never be accidents at oil rigs is to ask the impossible. Stopping oil drilling because of a mishap would be like banning all airline travel after a crash, some say. However, air crashes are mainly limited to human tragedies, not environmental with ongoing ecological and wildlife devastation!
Oil companies in America have tapped the easy oil and are now pushing the limits and increasing the risk by heading to the deep water of the gulf and the remote and unforgiving Arctic. The Arctic has a much more fragile ecology than the Gulf, and lack of infrastructure to deal with a similar spill. President Obama must be called upon to cancel Shell's permission to drill in the Arctic.
Other officials also have changed their stance on drilling with Republican California Governor Arnold Schwarzenegger and Republican Florida Governor Charlie Crist both saying offshore drilling is not worth the risk. We don't need to drill our coasts, said Sierra Club Executive Director Michael Brune. We already have the technology available to run our cars on electricity that can be generated from clean energy like wind and solar power. You don't hear about disasters like this at wind farms or solar plants.
This oil addiction is killing American and global ecology. Will virtually every remaining intact ecosystem be razed to access every last bit of oil before we transition to lower energy use, low carbon economy and renewable energy? What are we going to eat and drink when the oil industry has finished production and destroyed and diminished our ecosystems including forests, water and atmosphere? To a large extent both climate change and rainforest destruction are the story of oil. Ending this sad state of being is the most profound task of our age - compounded by global population blow-out!
An international wake-up call must be delivered to both the administration and Congress, to focus more effort upon reducing the demand for oil. The risks and costs of offshore oil exploration far outweigh their benefits, and the U.S. would be better off focusing upon promoting alternative energy sources. BP, and their contractors must be held accountable for every mistake that has led to this disaster, and bear the full costs of cleanup.
Let President Obama know oil drilling is not safe anywhere, anytime when properly accounting for its full life-cycle of production, transportation, sale, consumption and disposal. Further, demand a ban on offshore drilling, and that current catastrophe prone oil rigs are shut down. And finally, oil drilling projects must be stopped in Alaska and the world's rainforests, and oil drilling permits revoked in ecologically sensitive areas.
According to a poll of 803 registered voters conducted by the National Resources Defense Council, seven in 10 Americans agree that the U.S. should fast-track clean energy legislation. 
While the fossil fuels industry has received upwards of $74 billion in subsidies in recent years, government aid to the solar industry amounts to about $1 billion during the same period.
It is estimated that a worst-case scenario cost of the spill to the Gulf of Mexico: $1.6 billion.  About one-quarter of that is due to lost fishing and tourism. But the bulk of the cost is in the stuff that's less easy to quantify: the general wetlands ecology. If half a million acres of wetlands are severely damaged, that drastically affects a fragile area that acts as a wastewater treatment plant for water flowing out of the Mississippi River — where 40 percent of America's water flows into. And every acre of wetland means one less foot of storm surge protection from a hurricane, he said.
Efforts to limit the environmental damage involve an untried deep-water technique, using a toxic dispersant that they believe may damage ocean life. But the new method has so far only succeeded in ratcheting up the growing controversy surrounding the spill.
Marine scientists have found oxygen levels have fallen dramatically in parts of the Gulf and that there are vast plumes of oil deep underwater.
Latest news:
Engineers successfully inserted a tube into the damaged riser pipe from which some of the oil is spewing, capturing some amounts of oil and gas before the tube was dislodged, the announcement said. The tube was inspected and reinserted, BP said.
While not collecting all of the leaking oil, this tool is an important step in reducing the amount of oil being released into Gulf waters, the announcement said.