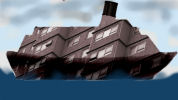 In Melbourne last Saturday nine public housing towers with 3,000 residents were shut down for at least five days, due to a large cluster of identified cases of COVID-19 within their walls. Since then, of course, the whole of Melbourne has been locked down for about six weeks. And this is a Melbourne burgeoning with high-rises. It seems a lifetime ago, but it is only about five months since the cruise ship, Diamond Princess, with identified cases of COVID-19 was unable to disembark in Yokohama, Japan. Her hapless passengers were confined to their cabins, in an attempt to prevent the spread of the virus aboard the ship and on land. Predictably however, the virus spread through the ship and by early March there were six casualties.


Those of us who see the downside of "storing" people in high-rise buildings and advocate against this trend in Australia, immediately saw high rise towers as vertical cruise ships. This obvious comparison has become a widespread notion, and many of us are trembling observers of this latest selective lock-down of the towers in North Melbourne and Flemington.
It is difficult to conceive of what the Victorian Government could have done differently in the situation and constructive criticism is equally difficult.