#A9F5D0;line-height:120%;">

Congratulations to all who organised, prepared, worked for and took part in the rally yesterday Saturday 28 June . It was a monumental task and a great celebration of community spirit. What was so impressive was the amazing diversity of groups and spread of ages of marchers and participants.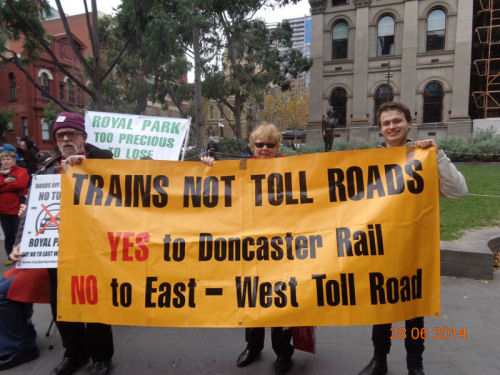 One leader of a community group who has been to lots of protests speaks for many when she commented yesterday after the march in an email:

"That surely was a great rally today in Melbourne, I was in awe during the march from State Library along Swanston St. It was conducted so very well with police on their horses beautifully standing to attention outside Flinders Street station while the speeches continued. Was this really democracy in action?? And how about the beaut little middle-aged lady in a red jacket holding up high a very large poster with a simple six-word message which read STICK YOUR TUNNEL UP YOUR FUNNEL !" Also the writer said: " I have never been to a rally as large, powerful and widely representative. All credit to the organisers and speakers too!
"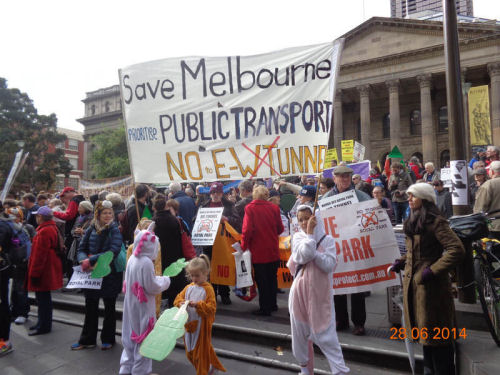 See the Gallery of Photos (9 in all) in the Age: http://www.theage.com.au/photogallery/national/east-west-link-tunnel-protest-20140628-3b0h9.html This is entitled "East West Link protestors marching through Swanston Street in Melbourne on Saturday 28 June 2014. Photos by Luis Ascui." Note on Page 2 of the Age the photograph of the sign held by a resident of Travancore "5200 trees Axed for EW Link - Say No Way!" (This is referring of course to Royal Park.)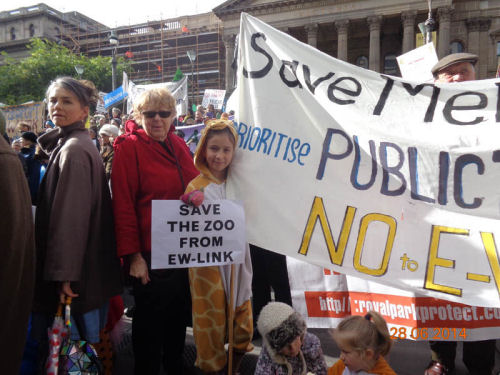 The photos illustrating this article were taken by Jill Quirk. They are of the banner with the iconic message "Trains not Toll Roads" (with the Royal Park banner in the background) and of the children of the Save The Zoo contingent, dressed as Zoo animals gathered outside the State Library waiting for the rally to commence. I would particularly like to thank the Moreland Community Against the East-West Tunnel (MCAT) and their Save The Zoo Children's group. Also Rod Quantock our PPL VIC President who did a Pied Piper act and led the children and Royal Park groups at the front of the march. I understand that Channel 2 and 9 covered the rally but have not yet seen the record.
Julianne Bell
Protectors of Public Lands Victoria (Inc.)