#D8E9F4;">
Update, 18 June 2014 :
Transcript
of Kelvin Thomson's speech added.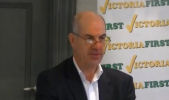 #FFFF66;line-height:120%;">Find inside the video and transcript of Kelvin Thomson's highly informative speech at the "Must Melbourne keep growing" forum of 14 June 2014.
#KT_14jun14" id="KT_14jun14">Must Melbourne keep growing?
The Hon Kelvin Thomson MP
Federal Member for Wills
President of Victoria First
Saturday 14th June 2014
This morning the Herald Sun reported that Melbourne has experienced its fastest property boom since the turn of the century. The median house price rose by over $100,000 in the past nine months, jumping over six percent each quarter from June last year to the end of March this year. These figures came from the Real Estate Institute of Victoria, which is happy about them. But elsewhere in the Herald Sun, Tom Elliott, who has a radio program on 3AW, has a less rosy assessment of the situation. In an article titled "Home horror is a people problem" he pointed out that first home buyers face a housing market that is one of the most expensive on earth. According to the International Monetary Fund, Australian residential real estate prices as a multiple of average incomes are exceeding only those of Canada and Belgium.
And not only was Tom Elliott on to the fact that rising house prices is not a good thing for the young people who get locked out of the chance to have their own home, he was also on to the reason why. "What is the real reason houses are now so expensive?" he asked, and gave the following answer "Look around – its people. More specifically the huge increase in population that Australia, and particularly Melbourne, has experienced over the past twenty years". His conclusion was that until we work out a way to conjure up more land close to the city, reducing population growth is the only sure fire method of denting property prices".
He's absolutely right. And he's certainly right about the huge recent increase in Melbourne's population.
In recent years Melbourne's population has taken off. We have been growing at an unprecedented rate – 200 a day, 1500 a week, 75,000 a year, more or less, year in, year out. Each new population projection for Melbourne is bigger and more outrageous than the one before it. The latest says we'll get to 7.7 million by 2051!
The question we don't spend near enough time thinking about is, is this growth giving us a better city? Now I am not a zealot or an ideologue. I am fundamentally a very middle of the road, practical sort of person. So when I try to work out whether something is a good idea, I look around for examples to compare it with real-­life examples. If I can't see how something works in practice, I don't set too much store by it.
Now in the case of thinking about an issue like the size of Melbourne, there seem to me two relevant kinds of example, two kinds of comparisons we can make. One is with other cities, both bigger ones and smaller ones. And one of the advantages of my life is that I've got to see a lot of other cities, both bigger and smaller. And I am absolutely convinced that in terms of living standards and quality of life that the smaller cities have it all over the bigger ones. We do not want to become Manilla or Mumbai, or London or New York.
Let me return to Tom Elliott's last line this morning "Until we work out a way to conjure up more land close to the city...." Of course some planners and policy makers, to say nothing of property developers, think they have achieved just that with their dual occupancies and multi-unit developments and in particular with their high rise. Let's build upwards, they say. The City of Melbourne reported breathlessly that in 2013 it had welcomed 11,000 new residents, making Melbourne City Council the fastest growing municipality in Australia. John Masanauskas wrote in the Herald Sun in May that over the past few years, in the CBD, 90 high-rise towers have been approved.
The advocates for high rise and multi-unit developments say they are necessary to maintain housing affordability. But if this is their purpose, then they are failing miserably. Housing has never been less affordable, as I pointed out earlier. Another thing they say about high rise is that we shouldn't stress so much about quantity – it's quality that matters. Reducing our environmental footprint and living sustainably is all about good design, and efficiency and so on.
To respond to that, let me turn from this morning's Herald Sun to this morning's Saturday Age. Aisha Dow reports that windowless bedrooms exist in almost a quarter of new residential developments in the CBD. A Melbourne City Council study estimates that more than half of the city's tallest apartment buildings over 15 storeys are of poor quality, with common design flaws and lack of natural light. All of the high rise apartment designs were considered either poor or average quality. Common failings include kitchens in hallways, poor storage, lack of ventilation and excessive energy use. The latter point is very significant, because there is a myth around that high rise is environmentally superior.
The Age says some Melbourne architects are so unhappy with the result of buildings they have designed that they have refused to have their name associated with them. The article quotes the Melbourne architect Jon Clements, representing the Australian Institute of Architects, saying "The general feeling among architects is that it's ridiculous to be forcing architects to produce buildings that don't appropriate quality and amenity standards". He is calling for minimum apartment design standards to be legislated. Some people would call minimum quality standards red tape. But I say the absence of them is a recipe for 21st century slums.
I lived in New York as an Australian Parliamentary representative to the United Nations for three months a couple of years ago. Fascinating, certainly, but not as good a city to live in as Melbourne, not even close. Even the relentlessly pro-growth, pro-business, The Economist ranked Melbourne at the time as the most liveable city in the world. New York was 56th. No doubt this has much to do with New York's well documented problems with crime, drugs, unemployment, beggars in the streets, and unaffordable housing. And all this is on a good day. It's intricately designed public and private transport networks have no margin for error and are incredibly vulnerable to adverse events like car accidents, train derailments, or storms. When these happen the whole system seizes up and hundreds of thousands of commuters are left stranded, seething with impotent rage.
Manhattan's intersections carry a myriad of signs warning of $350 fines for motorists who honk their horns. But they honk anyway. They honk constantly. They honk because they are angry, sitting there in gridlock in traffic. Is this really what we want for our city? Is it seriously worth sacrificing the vision of Melbourne's founding fathers of a city of parks, or the former Victorian Liberal Premier Dick Hamer of a city of green wedges, for this?
It is an urban myth that people living in high rise buildings use less energy and have a lower environmental footprint than people in detached houses. In Manhattan people run their air conditioners all day and all night to keep their airless apartments cool. There are no rainwater tanks, no solar PV panels, no people growing their own vegetables. Manhattan is not the self-sufficient, sustainable world of the future. It is a product of a time when we thought the sky was the limit. But the planet does have limits — food, water, energy, carbon.
The second kind of comparison I make is with the past. I remember what Melbourne was like when I was young. I remember what it was like 10 years ago. It is not getting any better. I've already talked about declining housing affordability. It is way harder for my children and their generation to afford a house than it was for my generation or that of my parents. And there's traffic congestion. We had a great deal of discussion about that at the February Victoria First Meeting with Dr Ernest Healy.
And then there is planning. We talked about that in Ringwood in April with Professor Michael Buxon. Developers use doublespeak terms like "housing choice", "sustainable", "exemplary design", and "efficient planning". But these are all code for removing residents rights to meaningfully object to developments in their neighbourhoods. I stand for the right of residents to have a say in the character of the street, the neighbourhood, the community in which they live.
You know they say that Melbourne and Australia used to be greyer and duller before we went all out on population growth. I grew up in the sixties and seventies. Jim Keays has just passed away. We had the Masters Apprentices, Daddy Cool, Skyhooks, Sherbert, Zoot, Chain! Seriously life was not duller or less interesting back then! We had more freedom more choices.
Is life better now for students? With youth unemployment at much higher levels than when I was young, and students being fitted with deregulated course fees and a student debt that goes up at the long term bond rate and gets bigger rather than smaller over time? I don't think so.
Is life better now for older people? With electricity, gas, water and council rates increasing above the rate of CPI, with increasing costs to visit the doctor, with cuts foreshadowed to the rate of pension indexation? I don't think so.
And is the environment in better shape than it used to be? We all know the answer to that one. Our list of endangered species grows ever longer, and climate change threatens more droughts, bushfires, and extreme weather events.
In recent decades Melbourne has grown both upwards and outwards. What have been the consequences? I have given a window into the consequences of growing upwards in talking about Manhattan, including beggars in the streets. And indeed the Lord Mayor of Melbourne Robert Doyle talks at some length about the problem of begging in the city in his Mayor's Message in their latest publication. Not something a Lord Mayor of the 60s or 70s would have needed to talk about.
But there are plenty of consequences from growing outwards too. We've expanded over fertile soils very suitable for vegetable growing. We've expanded into bushfire prone areas. And when fires come, and they always do, everyone wants someone else to pay for the damage — homeowners, insurance companies, councils, taxpayers. No-one thinks they should have to wear the loss. And just last Sunday the Sunday Age reported that thousands of homes in new estates from Grovedale on the outskirts of Geelong to Doreen in Melbourne's north, and including homes in the municipalities of Hume, Melton and Wyndham, have been built on highly reactive volcanic clay soils on "waffle slab" foundations. Soil movements under a home's foundations are causing walls to crack, doors and windows to jam, and floors to tilt. Homeowners now facing ruinous home renovation and legal bills will not think that housing has become more affordable for them as a result of greedy and short-­sighted behaviour by property developers and planning authorities.
This is also an issue about quality of life and mental health of communities. Health experts have pointed out clear health benefits from exposure to nature. Children build up their immune system by playing with soil and being in the real world rather than indoors. What do you call a kid in a backyard? A free range kid. Joggers and walkers and cyclists have been found to derive mental health benefits from being doing their exercise outdoors rather than in a gym. Patients in a hospital recover more quickly if they have a view out their window of nature, rather than a wall, to look at as they convalesce. And retaining green spaces and trees and vegetation helps keep our city cool, and reduce the urban heat island effect. Most of you will notice on the weather report at night how Melbourne is warmer than surrounding areas. This is because of the extent of heat absorbing concrete, brick and bitumen we have in the city. This might feel like a good thing in June, but it isn't when we have the heatwaves in January, February or March. They kill people. We should be doing what we can to stop Melbourne from overheating.
We spend endless amounts of time on our grey infrastructure — the freeways, bridges, drainage and so on. We need to put more effort into protecting and advancing our GREEN infrastructure of parks and trees and vegetation, and our BLUE infrastructure of creeks and beaches and lakes and waterways. We shouldn't see this as an environmental issue, as if it's some optional extra that we can afford to care about some years but not others. It is a health issue. And our health is a core issue by any yardstick. The OECD says that health is, globally, the highest ranked issue of public concern.
The things that we used to be able to afford — free education, free health care, a home of your own, a say in what happens in our street — now we are told we can't afford them anymore. Well if we can't, we're not better off, we're worse off.
We need to show the same foresight the founders of this city showed when it was initially designed. They left us with a city with open space, extensive tram and train networks, and liveable suburbs supported by extensive local infrastructure in the form of schools, hospitals and social services. We should leave a legacy for future generations that we, and they, can be proud of.
Kelvin Thomson MP