Media Release by Australian Society for Kangaroos:
Wildlife groups are calling for an inquiry into the slaughter of half a million kangaroos in Victoria by farmers since 1999.
According to the 1975 Wildlife Act, Eastern Grey Kangaroos are a "protected" species!
Landholders in Victoria are being given permits to kill tens of thousands of protected kangaroos every year, even in good seasons and in areas not affected by drought. This is despite research showing that kangaroos do not compete with stock for pasture.
Kangaroos are also being shot without proper assessment of population numbers, locally or regionally, putting them at risk of local and regional extinction.
In recent cases, local residents were devastated to discover that permits has been given to kill the equivalent of the total population of kangaroos in Colac, Gippsland, and Bendigo, causing a public outcry for the unjustified and brutal killing of protected native wildlife.
Colac resident Carola Anstis and East Gippsland resident Valerie Hickey, recently had to stand by and watch as their local kangaroos were shot by local farmers.
"Why permits to kill kangaroos in the Marlo area (East Gippsland) are being given, is beyond comprehension. The land here where sheep and cattle graze is in excellent condition, and unaffected by drought.  Kangaroos are not abundant in this area, and pose no threat to stock pasture.
The DSE and farmers have a long association, and I believe the DSE feels obliged to comply with farmers wishes. This issue could be addressed if DSE provided farmers with accurate facts about our wildlife and the current research about their positive co existence", said Valerie Hickey.
Carola Anstis is equally disturbed by the current situation and the destruction of kangaroos that live at her wildlife sanctuary.
"With regard to my particular case, and recent permits to kill kangaroos on my neighbours property, no assessment was made of the property with regard to pasture improvement and carrying capacity to determine whether in fact there is direct competition for food. No assessment was made as to whether the kangaroos are on the property all day, part of the day or just passing through, and no means of control other than the limited suggestions for gates in fences were examined before the permit to cull was issued.  
I refer to Wildlife Act 1975 and remind DSE that Eastern Grey Kangaroos are a protected species", stated Mrs Anstis.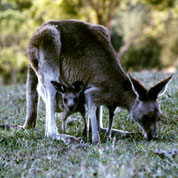 "The research is very clear, that kangaroos do not compete with sheep and cattle for food, yet state and federal governments continue to allow the slaughter of millions of kangaroos every year across Australia based on this myth. In fact research is showing that kangaroos are beneficial to the environment and can enhance farm production if allowed to graze with stock", said Nikki Sutterby,
Australian Society for Kangaroos.
The RSPCA has also expressed concern for the slaughter of kangaroos by private landholders and reported the following in its "Survey of the Extent of Compliance with the Requirements of the Code of Practice for the Humane Shooting of Kangaroos". (Prepared for Environment Australia by RSPCA Australia July 2002).
RSPCA Report 2002 Kangaroo Shooting Code compliance
"The cruelty associated with non-commercial kangaroo killing is neglected by the authorities and control over the number of kangaroos killed and the methods used is ineffective".
"The consensus of opinion given by those associated with kangaroo management is that there is a far higher degree of inhumane killing of kangaroos in non-commercial killing."
"There is no requirement for the license/permit holder to undertake any training in humane shooting or in firearms competency. In no state is there any system in place for monitoring the extent of cruelty associated with non-commercial shooting of kangaroos and it seems unlikely that any could be organised under the present method of damage mitigation".  
If this government has it's way, "protected" indigenous animals will no longer be living in our State, except in parks, zoos and sanctuaries.   Victoria is already the most damaged and cleared State of Australia.  Native animals are being made the scapegoats for Victoria's demise when they are actually a part of our ecology, not environmental threats.
"In summary, the Code requires that when a female has been killed her pouch young must also be killed immediately by decapitation, a heavy blow to the skull, or shooting." Is this how we treat our wildlife?
AWPC - Government sanctioned cruelty
PLEASE CONTACT VALERIE HICKEY FOR PHOTOS THAT EXPOSE THE HEALTHY PASTURE COVER ON HER NEIGHBOUR'S PROPERTY, WHERE KANGAROOS WERE AUTHORISED TO BE KILLED TO PROTECT PASTURE.
FOR MORE INFORMATION CONTACT
VALERIE HICKEY
03 51548581/0427548581/41079007
CAROLA AND RON ANSTIS
CARLISLE RIVER WILDLIFE SANCTUARY
PH; 52350202
NIKKI SUTTERBY
CO-ORDINATOR
AUSTRALIAN SOCIETY FOR KANGAROOS
PO BOX 524 CASTLEMAINE VIC 3450
PH; 0417354408