"What should happen is every newspaper and journalistic entity should pull out of the United States and you should have a massive sanctioning of the United States. No American should be welcome in any sporting event, much as they're trying to do to other nationalities, including Russian. The only way to stop this devouring of the world is to stop the devourer of the world, and to sanction it, and to withdraw from it. And ignore it and turn away from it. And it's a sad day, but otherwise, all freedoms, all people, will be in danger." (Scott Bennett – Former US Army psychological warfare officer.)
The above quote is from a discussion on Press Tv Iran about how to save Assange, which we have transcribed below.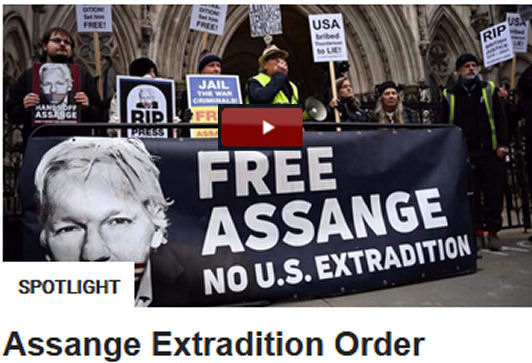 "Assange could face lifetime in prison if extradited to US," Spotlight, hosted by Kaveh Taghvai, Press TV Iran, Wednesday, 20 April 2022.
A UK court has formally issued order to extradite WikiLeaks founder Julian Assange to the US where he is to face trial for publishing classified files on wars in Iraq and Afghanistan.
SPOTLIGHT interviews Scott Bennett former US Army psychological warfare officer from San Francisco and Mick Napier activist and commentator from Edinburgh to look at the issues related to Assange such as the freedom of speech, the accusation itself, and whether it should be called espionage. Why Assange is being punished for revealing of the ones who have committed felony and murder?
KAVEH TAGHVAI (HOST): The UK Court has approved the extradition of Julian Assange to the US. The UK Home, Secretary will decide on his fate. In this edition of the spotlight, we will look at issues related to Assange, such as freedom of speech, and the accusation itself – whether it should be called 'espionage.' Given the depth of the revelations, why is it that Assange is being punished for revealing the ones who have committed the felony, or the murders? Where is the Justice in that? Well, first, let's get an idea from our correspondent. Rob Carter, who joins us from London to tell us more about this. Rob Carter, at this point things just don't look too good. Anybody that perhaps is on social media or otherwise is not very optimistic about this. What could you tell us more about - I guess the steps before the final decision is going to be taken.
BACKGROUND FROM RALPH CARTER (LONDON CORRESPONDENT): Yes, of course, while it is important to realize that, this decision doesn't mean that all of the legal options for Assange's team have been exhausted. Let's make that absolutely clear. So, of course, a major blow in the years-long fight for Assange, to essentially, not be extradited to the US on espionage charges, that has taken a major development today. However, the decision now goes towards the British government. Priti Patel and the Home Secretary will be making that decision. But over the next four weeks, Assange's legal, team can make appeals and submissions to the Home Secretary in order to basically plead their case to try and convince her to rule in their favor, still. So the fight isn't actually over. But of course, a lot of people are deeply worried about which way the Home Secretary will rule on this, especially because she has a reputation for kicking as many people out of the UK as she possibly can, in particular, refugees and so on. So obviously she has a bit of a reputation for shipping people outside of the UK will this case? However, will this case be taken differently? That is the big question. Of course, there is a lot at stake here, freedom of speech, freedoms for journalists to report on state corruption. And of course, let's remember that, on the one side, the US side, they are arguing that, hey, Julian Assange, he conducted criminal activities and basically put state Secrets out in public, but you shouldn't have done, risking National Security. But then on the other side of that argument, Julian Assange has literally done his job as a journalist, and a lot of the information that was leaked by Wikileaks was of great public interest, especially in regards to military wrongdoing by The West in countries like Iraq and Afghanistan. So, a massive story here, but it's far from over, I think. And we have to be clear that the fight for Assange's, freedom is still ongoing.
KAVEH TAGHVAI (HOST): Okay. Thank you very much for that. That is well Ralph Carter, a correspondent from London. Let me now introduce our guests for this edition of Spotlight, Scott Bennett, former US Army psychological warfare officer, joins us from San Francisco.  Also joining us, Mick Napier, activist and commentator, who joins us from Edinburgh. Welcome to you both.
Let me first start with you, Mick Napier. What has happened, a formal approval by the for the exhibition of Julian Assange to the US, on Espionage charges, the fate to be decided by the UK Home Secretary, Priti Patel. What's your reaction upon hearing this?
MICK NAPIER: He's a journalist. And when this material was released, by Wikileaks, Chelsea Manning spent seven years in a US prison for her, for her part in that. This was picked up by journalists in the guardian and other prominent media around the world, who made a lot of money out of what Julian Assange and Wikileaks were revealing. Circulation went up, and these journalists who were very happy to take  what Julian Assange made available to them, have largely turned their backs on him. I think this is a grim grim day.
Who can forget who has ever seen it, the footage which Wikileaks showed, of a US Apache helicopter – I think it was - killing Reuters journalists and civilians in a street in Iraq. And then when, later, a vehicle comes to pick up the bodies, they were also shot at and killed, as well. So, I think what's happening is a journalist who has done a fantastic job of revealing that which our rulers would wish to remain hidden, has been treated extremely cruelly. He's been tortured in Belmarsh Prison in high security isolation for the last three years, but the man's a journalist! What he's done is what other journalists would dream of doing, and the fact that he's being extradited is nothing more revenge. It's revenge by the Pentagon, which our other guest might shed much more light on than I can. But it's certainly a Revenge by the US establishment, aided and abetted by their British counterparts, for something which they could never forgive. That is the revelation of terrible war crimes against the people of Iraq and Afghanistan. And you have to put this in context: this intervention in Iraq was something which someone who died recently – an ex-US Secretary of State - had said on one occasion, half a million deaths through sanctions was a price worth paying - and that was even before the war started. So this is a grotesque crime, which Assange has revealed and - for being a wonderful journalist - he's now going to be sentenced to life in the American prison system, which is so horrific, I don't even want to think about it.
KAVEH TAGHVAI (HOST): Sure. Well Scott Bennett. I'm not too sure how to approach this with you because you know, it says that there's a decision that needs to be made; its then the possible extradition to the US. I mean that extradition to the US is the state of that - This this is going to be then reviewed in a US court. And then come to find out that US court is actually an Espionage court. So it's almost like a kangaroo court, in which the verdict will most likely, most definitely, is going to be the guilty verdict. And maybe all of this could be just really being - not staged – but what some are saying that, you know, the UK is going to, okay, this – and Assange is going to get extradited to the US. Tell us how you really see this moving forward based on what has now occurred.
SCOTT BENNETT: Well, I think the entire life of Western freedom and Western truth in journalism, hangs in the balance, with the imprisonment and death of Assange, which is most likely. So will be the imprisonment and death of all American journalists, indeed all American citizens, in fear of this tyranny police state that is cancerously morphing in the west. So Julian Assange is much bigger than his particular case. He represents and symbolizes the expected rights and freedoms and truth of the entire western civilization, which is becoming a laughable mockery and not at all reflective of reality, as the mockery and, as you wisely identified, the kangaroo court of this silly charge against Assange has absolutely no basis in law, and has no basis in truth. It is a revenge act and it is an act of violence upon every free American, free person indeed, of the world. And journalists are to be the vanguards of truth and expose government and power when it is run amok. And that is what Julian Assange did. That's indeed what one of my colleagues did - Edward Snowden - who I worked with at Booz Allen Hamilton, when he was exposing Swiss bank financing of terrorism through the Biden-Obama administration. And Ed Snowden, who worked with me at Booz Allen, left the country because he knew what was coming. Julian Assange tried to flee the persecution and they, you know, captured him, and have imprisoned him for the better part of a decade, and tortured him. Your Scottish colleague is very accurate in his analysis. They have tortured Assange. And they have sought to destroy him. I do not expect any justice or honor from Priti Patel. I think that judge is indeed going to be ruthlessly savage in the destruction of truth and rights, and he will be extradited. But of course, there's always hope that the world's population will rise up and demand, challenge, and perhaps overthrow these tyrannical governments in America, in Britain, as you see elsewhere in western civilization. So, the Espionage Court, the espionage charges, have no basis in reality. They have no legal footing.
We may see Bradley Manning who calls himself Chelsea Manning, called to testify in defence of Julian Assange, which could obliterate charges. We may even see, hopefully any western politicians standing up and demanding Julian Assange be pardoned, that indeed all charges be dropped. Because if you can do this to Julian Assange for speaking the truth about war crimes that the United States has engaged in from Afghanistan, Iraq, Libya, Syria, the list goes on, then you can oppress and kill every person that speaks the truth.
KAVEH TAGHVAI (HOST): Okay, we're going to review some things that I think, believe that needs to be reviewed.  Perhaps, again, Mick Napier. And one of them is, I think, Scott actually mentioned there is the charge itself. Espionage. In the context of what Julian Assange did because of the content of what was revealed is their justification in the accusations brought against Assange. Because we know that obviously that revealed what the US government did in particular, which in the case of Iraq and Afghanistan, could amount to war crimes. Do you believe that this 'espionage' label that has been given to Assange is Justified for it, then, for him, then to go through this judicial proceeding?
MICK NAPIER: Well, look. It's not a case of looking at the dictionary, but what does 'espionage' mean? Espionage means revealing secrets which the government doesn't want to be revealed, usually in the service of a foreign power. Julian Assange revealed secrets, which the US government did not want to be revealed, in the interests of US citizens and those of us around the world, who were being kept in the dark about the extreme gravity of these crimes. Now, we knew about a lot of stuff. We knew that for example, in Scotland, that prisoners were being transferred through [? Presbycare] for torture in various parts of the world, on behalf of the British and the Americans. We knew it, but we did not have the smoking gun. We knew that - anybody who's not a fool knows that terrible crimes were being committed in Iraq and Afghanistan, but we didn't have the smoking gun. Assange provided the film footage. We saw it, and it was so graphic. And so, disturbing, and impossible for spin-merchants to spin. That's the gravity of his crime in the eyes of the Pentagon and the US elite. No, it's nothing to do with law. It's to do with revealing secrets, which the State did not want to have in view. And revenge is the entirety of the story. And I don't think, I think I usually try to avoid hyperbole, but in this case, I think the situation is so grave that a brave journalist is about to be murdered. Judicially.
Murdered, using the appalling US prison industrial complex and we need to stand by him. Everybody needs to stand by him. And I think his only hope is an absolutely aroused and enraged public opinion, at the moment in Britain. Now, remember, this man was detained and charged on charges of sexual assault, which were very sinister indeed, coming from Sweden, and those charges were dropped when they had served their purpose. When he was being detained in prison, he offered to stand trial in Sweden, if he was guaranteed, he would not be extradited to the USA. That is, if the Swedish government would say, this is a case of an alleged sexual assault and it will be dealt with as that. The you, the, the Swedish government refused to give him that guarantee, and he knew that if he went to Sweden, he would be, he would be pushed on to the USA. The British government did not ask for such a guarantee. So, we had – you know, all along this whole thing smells of a terrible, terrible, partly conspiracy - something's taking place in the dark - but largely in front of our eyes, where this man is being ground down by various governments, for a very clear act of [indecipherable]. Can I just say one thing? We owe him very, very big and because we owe him for revealing, these secrets, it's our duty to come to his support.
KAVEH TAGHVAI (HOST): Well, Scott Bennet, as our guest, mentioned the phrase 'smoking gun,' which I think is exactly is what happened when we saw that video years ago, but, so what came of it? I mean, you have a smoking gun revealing these so-called secrets of which we know that the US, for example, is guilty of. And yet we are having those types of what amounts to war crimes, as you mentioned, in countries like Syria, Iraq, Afghanistan, still continue. I mean, even the US comes out and says, you know, this is collateral damage, when it comes to the killing of civilians. So what good did the smoking gun do if those types of crimes continue and get repeated?
SCOTT BENNETT: Well, the smoking gun of Julian Assange's revelations was really, from a military perspective, a very small isolated incident, which I would say could have been, you know, apologetically presented. It could have been spun by the military in a different way. Instead that exposure set in motion a domino effect of responses, and antagonisms, and aggression, by the US military, by the Central Intelligence Agency, by the Department of Justice, by the White House, by various war crime Zionist neocon lunatics, on Capitol Hill, that all saw this as a challenge to the American Empire. Never forget the American Empire, the military-industrial complex, the Zionists, the British, have all been pushing for this world full-spectrum dominance against countries that stand against it – Iran, Russia, China. So Julian Assange was a flare in the sky that the US responded to with all instruments of its National Power. And it's fascinatingly hypocritical that President Donald Trump, who earned his, or actually won the presidency, largely because of the revelations of WikiLeaks and Julian Assange. revealing the corruption in the Clinton and the Biden-Obama administrations; Donald Trump, never issued a pardon as he should have. That's shameful, and Julian Assange deserves a pardon. He deserves to be set free. He deserved nothing of what has happened to him, because he indeed, he was standing up for truth for all people around the world. There is no freedom if the government grants it to you. There is only freedom when the people rise up and control the governments that they create. That was the premise of the American founding, but it is morphed into a police state after the World Trade Center attacks in 2001 that was used as a military juggernaut. It was based on complete lies and fabrications, but that was used to set in motion this military juggernaut into Afghanistan, into Iraq, into Libya, into Syria. They were planning on seven countries in five years, and that's what Julian Assange stood up against by just identifying one particular incident. And the over reaction shows us just how fragile and desperate and really mentally incoherent, the American empire, the American government, the American military, really is. And you see that in their silly adventures in Ukraine and elsewhere. So, the Empire of the West is really crumbling, and Julian Assange set that in motion by, not only identifying truth, but triggering the West to overreact.
Every nation and every journalist around the world should be looking at the United States as a monstrous deformity of what it previously claimed to represent. It is not a light of sitting on a hill. It is a black hole of darkness that sucks into it and destroy everything that stands for light. Everything that stands for truth, everything that stands for human rights, everything that stands for sovereignty and the equilibrium of freedom and free nations. The United States stands against that and is the opposite of that. And it saddens me to say it, having served the United States in the military, and my father, before me, we are witnessing America deform into a Frankenstein cannibalistic monstrosity that is obsessed with devouring the nations of the world, subjugating them by all means necessary -including bio-weapon chemical labs as they've been developing the Ukraine, it's been revealed - but it has to exterminate truth and truth tellers. So they will no doubt exterminate, torture Julian Assange, as a marker for the rest of the world, to try and intimidate the world.
Hopefully the world will rise up and throw off that intimidation and you will see a reverse impact. So, perhaps Julian Assange will be one of the greatest heroes of troops and reignite an awakening in all western civilized people's.
KAVEH TAGHVAI (HOST): Mick, when we started this discussion, you talked about how it's a sad day for the journalists that actually used Assange's information or release[s] and made lots of money over it, that they are not rising up to his cause, at this point, and our guest there talks about how the world needs to rise up. What can be done in order for the attention, the proper attention be given here to maybe for there to maybe be a chance to stop what is going to happen. Especially if he does get extradited to the US which the prospects look very grim, because as many are concluding, the US has to make an example of Assange, so that other whistleblowers don't come forward.
MICK NAPIER: Well, you know, he can only go to the States, and I think when that happens, it'll be lost. But he can only leave Britain if a lot of people cooperate. Priti Patel is a monstrous figure who has been in favor of of driving would be asylum-seekers back into the sea [indecipherable] come to Britain. She's really someone who will try to get him to the states in every way possible. But, you know, sometimes when she's been expelling refugees and trying to get them back to some country in Africa, pilots have refused to fly them. They have refused to take off in an aircraft while people are in shackles and have been forced onto the aircraft unwillingly. There are many ways this can be stopped, but it will need a very aroused determined [indecipherable] in public opinion. Because if Assange goes to the states, we will all be diminished. And that's the whole point of it. When somebody is taken from our ranks. When every journalist is told this can happen to you if you ever use information of which we disapprove, then that's the problem. We will be diminished. Journalists have been massively diminished already. I mean, we talk in Britain about a free press but it's a free press if you can get an oligarch to sponsor you. Otherwise, we're back to social media. The areas for free and open discussion in Britain, and the British press - which once were real - have been closed down over the last 20 or 30 years. Some of the giant figures would now be impossible because there's simply no space for them. Assange is a litmus test. We need all good men and women have to come to the aid of Julian Assange.
KAVEH TAGHVAI (HOST): Final question goes to you, Scott Bennett. What do you think the chances are going to be of Assange getting extradited to the US and what will happen there, in your opinion?
SCOTT BENNETT: I think it's one hundred per cent guaranteed he'll be extradited, because the British government and judiciary are slaves and pawns and robots to the Empire. The Anglo Empire, the Atlanticist empire. And your guest is right. What should happen is every newspaper and journalistic entity should pull out of the United States and you should have a massive, sanctioning of the United States. No American should be welcome in any sporting event, much as they're trying to do to other nationalities, including Russian. The only way to stop this devouring of the world is to stop the devourer of the world, and to sanction it and to withdraw from it. And ignore it and turn away from it. And it's a sad day, but otherwise, all freedoms, all people, will be in danger.
KAVEH TAGHVAI (HOST): Very well. Thank you so much for that, Scott Bennett, former US Army psychological warfare officer. For San Francisco, Nick Napier, thank you, activist and commentator for Edinburgh.