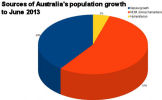 Australia's Abbott government's re-opening of a visa loophole and removal of regulations on the 457 skilled migrant visa enables employers to import excess labour. This seriously unbalances the power ratio of employers and workers in Australia.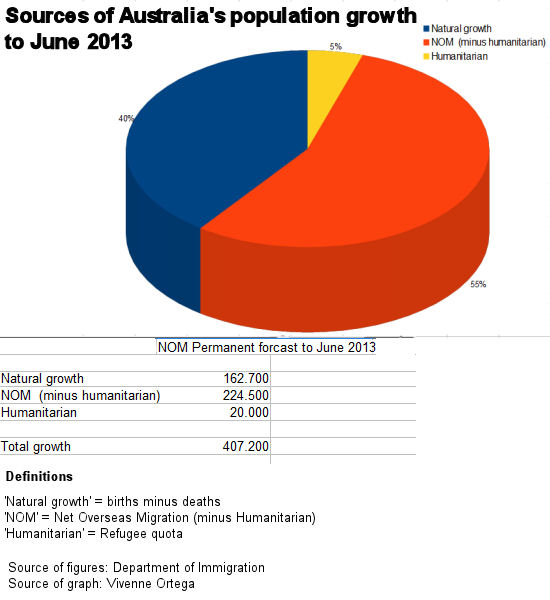 The move is decidedly contrary to the interests of Australia's population, which their government is supposed to represent. Australia now has 728,600 people unemployed according to January ABS figures, a rate of 6% up from 5.8% in December. These figures do not include the underemployed who, if they work more than one hour a week are not classified as unemployed. Unemployment and underemployment are rising, but numbers of persons in employment remain steady although Australia's population rises by about 1.8% in a year. This situation hardly justifies making it easier for employers to import excess labour.
The increased population growth due to immigration to Australia, of which skilled migration is the largest category, carries many costs. It places stress on and causes inflation of prices for accommodation, infrastructure and services, including scarce power and water resources. This inflation and stress affects the supply and affordability for the incumbent population as well as for immigrants.
Australian government pouring Australia down the drain
It seems that the Australian government is simply pouring Australia as an entity down the drain. The government seem to have completely lost sight of their responsibilities in this matter.
It is in fact the responsibility of governments to provide an interface or buffer between capital and labour, in the current economic paradigm.
The profit imperative of big business in a neo-liberal world means that business pays no attention to the issues mentioned, is out for itself, and hell-bent on clawing an advantage out of the mix of public resources available to it.
It is the government's job to temper this and to protect the Australian people. Closures of car factories in Victoria – Ford (in 2016) and Holden and Toyota (in 2017) will be very hard on the workers who lose their jobs, on their families and on the communities where they spend their money. This seems to be the proverbial 'no brainer' that Australians need to be catered for in Australia's job market. If Australians are unsuitable for jobs here, why would people imported over 1000s of Kilometers, sight unseen, be more suitable?
It is interesting that in water-starved West Australia, the population growth rate has recently varied between a whacking 3.7% and the current huge 3.3%, thanks to Enterprise Migration Agreements with mining operators such Gina Rinehart. Workers are imported to lay pipes for gas companies, to spray water to settle dust in iron ore operations and for other laboring functions. According to the rules, these 457 workers must find more work within 4 weeks of a job ending. If they work one hour a week that enables them to stay - but how do they support themselves?
They then must rely on any charity and goodwill around them like other unemployed people. This is hardly a contribution to Australia's economy!
The same observer, who has spoken to young people from Europe in West Australia, reports that that Australia is very attractive to European youth, as, being a commodity economy, the impact from the Global Financial Crisis has been delayed. These young Europeans come to Australia as students, and after completing or during a short course, move into the workforce – as waiters or cooks, for instance. If they are lucky enough to get sponsorship, they can then stay. This is a happy ending for the young person but what about Australia's youth?
The other section of the workforce to be concerned about is the over 45s, many of whom find it difficult to get another job after losing one, even if extremely well qualified.
MP Kelvin Thomson wrote in Dec 2013:
"We are now being told that the jobless rate will rise within about 18 months to 6.25% from the current 5.8%, and stay there through to the end of 2016-17!"


We seem to be well on the way with the government giving the situation a big helping hand.