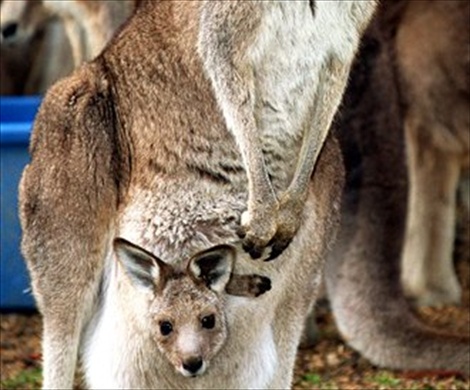 An article by Associated Press entitled: "Kangaroo tries to drown dog, attacks owner" dated Tuesday, 24 November 2009 (today), naturally drew the author's attention...
"A kangaroo startled by a man walking his dog attacked the pair, pinning the pet underwater and slashing the owner in the abdomen with its hind legs. The Australian, Chris Rickard, was in stable condition Monday after the attack, which ended when the 49-year-old elbowed the kangaroo in the throat.
Rickard said he was walking his blue heeler, Rocky, on Sunday morning when they surprised a sleeping kangaroo in Arthur's Creek northeast of Melbourne. The dog chased the animal into a pond, when the kangaroo turned and pinned the pet underwater.
When Rickard tried to pull his dog free, the kangaroo turned on him, attacking with its hind legs and tearing a deep gash into his abdomen and across his face.
"I thought I might take a hit or two dragging the dog out from under his grip, but I didn't expect him to actually attack me," Rickard, 49, told The Herald Sun newspaper. "It was a shock at the start because it was a kangaroo, about 5 feet high, they don't go around killing people."
Kangaroos rarely attack people but will fight if they feel threatened. Dogs often chase kangaroos, which have been known to lead the pets into water and defend themselves there. Rickard said he ended the attack by elbowing the kangaroo in the throat, adding Rocky was "half-drowned" when he pulled him from the water."© 24-Nov-2009 AP


Comment: This account seems consistent with known kangaroo behaviour of fleeing its natural predator the dingo, that the kangaroo fled into the water. The owner allowed (or perhaps encouraged) his dog to chase the kangaroo into the water. The kangaroo's final self-defence was to use its hind legs against the dog in the water. The dog persisted and then the owner went in after his dog. The kangaroo defended itself against both the dog and against the owner elbowing it in the throat. It is a human trait to plead innocent when involved in conflict even when the aggressor. Perhaps the editor should have adopted a more factual title of "Kangaroo set on by dog and owner, defends itself in water."


...then there's this story from 2003:
Half-Blind Kangaroo Saves Life Of Unconscious Man
by Sherry Morse:
"A farmer who suffered serious head injuries after being struck by a falling tree branch was rescued by a partially blind kangaroo who is being hailed as a hero.
Lulu the kangaroo banged on the door of the family's home in Morwell, Gippsland in southeast Australia after discovering the farmer lying unconscious in a field. According to Rural Ambulance Victoria paramedic Eddie Wright, the man had been checking his property for damage following a severe storm when he was struck by the branch.
Wright said that if Len Richards' family had not found him so quickly, he might have died.
"The kangaroo alerted them to where he was and went and sat down next to him, and that's how they found him," he said. Richards was taken to an Austin hospital. Richards' daughter Celeste said, "Lulu and Dad are very close and she follows him around, but we all just love her so much."
About ten years ago, the family found Lulu in the pouch of her mother who had been killed by a car. The authorities allowed them to care for Lulu and adopt her because she is missing one eye.
The Australian Royal Society for the Prevention of Cruelty to Animals (RSPCA) has urged the family to nominate Lulu for its National Bravery Award. "From my point of view, it's a darn good story, and I would hope Lulu is nominated," said RSCPA president Dr. Hugh Wirth. © 2003 Animal News Center, Inc.
"Kangaroos are shy and retiring by nature, and in normal circumstances present no threat to humans. Male kangaroos often "box" amongst each other, playfully, for dominance, or in competition for mates. The dexterity of their forepaws is utilised in both punching and grappling with the foe, but the real danger lies in a serious kick with the hindleg. The sharpened toenails can disembowel an opponent.
There are very few records of kangaroos attacking humans without provocation; however, several such unprovoked attacks in 2004 spurred fears of a rabies-like disease possibly affecting the marsupials. The only reliably documented case of a fatality from a kangaroo attack occurred in New South Wales, in 1936. A hunter was killed when he tried to rescue his two dogs from a heated fray. Other suggested causes for erratic and dangerous kangaroo behaviour include extreme thirst and hunger." (Wikipedia)
Kangaroos like dingos are wild native animals and deserved to be treated with respect as wild animals.