The 'densification' that planners push to accommodate overpopulation drives increasing water pollution risks, along with climate change. "Generally, we expect urbanisation to increase groundwater DOC (dissolved organic carbon) concentrations by up to 19 per cent, compared to agricultural or natural land use, likely as the result of contamination – for example, through leaking septic and sewer systems." (Research paper.)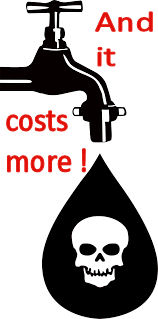 Climate change and urbanisation are set to threaten groundwater drinking water quality, new research from UNSW Sydney shows.
More than half of the world's population faces a looming threat to the quality and availability of their drinking water because climate change and urbanisation are expected to cause an increase in groundwater organic carbon, a new UNSW study has found.
The research, published in Nature Communications overnight, examined the largest global dataset of 9404 published and unpublished groundwater dissolved organic carbon (DOC) concentrations from aquifers in 32 countries across six continents.