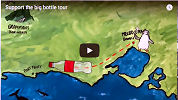 On Tuesday May 29 at 10:00am AEST, Boomerang Alliance and a small delegation of supporters in costumes with a 3 metre long Coke bottle will present the Premier of Victoria Daniel Andrews at his electorate office in Noble Park with 12 large bags filled with beverage containers collected on tour as a token of the resounding message received from the people of Victoria - "We demand a container deposit scheme now!"
Travelling over 2500kms in April 2018, the Big Bottle visited 10 towns across the state asking Victorians their views on a container deposit scheme (CDS). Not only were people and local councils overwhelmingly in support, they readily expressed their frustration at the inactivity from successive governments.
Victoria will soon be the only mainland state without a 10 cents container deposit scheme. Victorians are calling on the state government to implement a container deposit legislation without further delay. A container deposit scheme will reduce litter, increase recycling rates, decrease the contamination rate and provide great fundraising opportunities for charity and community groups, especially in regional areas.
*Containers delivered will include plastic and aluminium containers only. All glass containers collected were recycled locally.