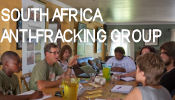 The Alliance against fracking in South Africa, AfriForum and Treasure the Karoo Action Group (TKAG), has said that shale gas exploration cannot proceed, following a statement by Trade and Industry Minister, Rob Davies, that Government could authorise shale gas exploration before next year's elections. See also other candobetter articles on fracking here: http://candobetter.net/?q=taxonomy/term/3020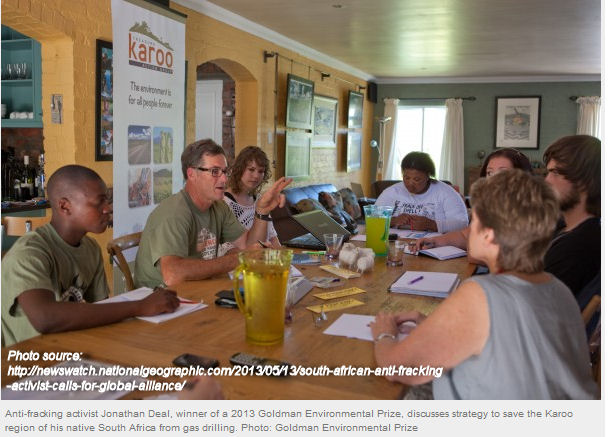 Shale gas exploration in South Africa cannot go ahead
The Alliance states that is most disappointed by Government's stance on shale gas exploration.
"Firstly, we believe that such a decision will have an impact which will endure far beyond the election cycle of the Government. This decision cannot be rushed through before next year's election. It will be completely irresponsible," says Jonathan Deal, Chairperson of TKAG.
See also http://newswatch.nationalgeographic.com/2013/05/13/south-african-anti-fracking-activist-calls-for-global-alliance
"Secondly, Minister Susan Shabangu has promised on various occasions to consult with the public of this country prior to making any decision on shale gas mining. This has not happened, and the people of South Africa - at all levels - are entitled to be heard on an issue of this magnitude."
"We are informed that Government has thus far relied largely on research commissioned by the Department of Minerals - which, in our considered view is singularly inadequate, considering the multidisciplinary nature of mining activity."
South African laws inadequate for this complex problem
The environmental issues, of which water is only one, are complex and varied, and the laws of South Africa are wholly inadequate to control an industry with a severely tarnished reputation and the process of fracking, the Alliance believes.
"Government is selling votes with this move, but it is an empty promise. Even if Government issues the licences, exploration cannot legally proceed. We will not allow our constitutional rights to be breached; the Alliance will appeal against Government," says Julius Kleynhans, Head of Environmental Affairs at AfriForum.

"AfriForum and TKAG are most certainly pro-development, but we cannot endorse a hasty and ill-considered choice that may compromise the prosperity of current and future generations"

"Recent evidence from the United States of America indicated that fracking may contaminate drinking water. A study from Duke University analysed 141 drinking water samples across a gas-rich shale basin in north-eastern Pennsylvania."

"They found that methane concentrations were 6 times higher, ethane concentrations were 23 times higher and propane was detected in 10 samples, all of them from homes within a kilometre of the drilling sites."
Two previous studies by Duke scientists found direct evidence of methane contamination in water wells near shale-gas drilling sites in north-eastern Pennsylvania. The Alliance has said that it does not want this to occur in South Africa, especially not in the sensitive Karoo. It stressed that South Africa is an arid country and must be treated as such.
Hydraulic fracturing, known as fracking, has led to a massive expansion of natural gas production in the United States but has been banned in other countries such as France due to environmental concerns.
"The gas is extracted after cracking open hydrocarbon-rich shale by pumping water, sand and chemicals into the deep wells at high pressure. Environmental groups and many scientists believe this technique degrades the land, pollutes ground water and fouls the air," added Kleynhans.
Comment from Candobetter.net editor: Often overlooked as well, and most important of all, is that the energy required to extract fuels by fracking is much greater than in extraction of conventional oils, and must be subtracted from the total haul. The concept involved here is Energy returned on energy invested. This is a key concept for resource depletion and the wider community and the reporting community don't generally know of it.
The source of the above article was from a press release signed by:
Julius Kleynhans
Head: Environmental Affairs
AfriForum
Cell: 0027-82 829 9182
E-mail: [email protected]
Jonathan Deal
Chairman
Treasure the Karoo Action Group
Cell: 027-76 838 5150
Esmarie Prinsloo
Head: Media Liaison
AfriForum
Cell: 0027-72 332 9824
E-mail: [email protected]