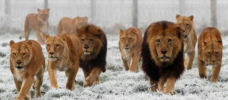 How many of us can truly say we have witnessed such exhilirating history in the making? Footage of the Syrian Arab Army and their allies entering the city of Deir Ezzor has just been released. Yet another one of the brutal and punishing sieges maintained by ISIS and assorted US coalition armed and funded extremist forces has had its back broken by the SAA and the stubborn resistance of the Syrian people.

As has been quite obvious to most of us, the motivation and intention of the whole Western campaign in the Middle East remains the removal of Assad and the subsequent moves against Iran and Russia. IS is a Trojan horse, and the Great Refugee Crisis is the most egregious false flag yet devised to dupe the Western support base of the criminals in power.
Australia's entry into the war on Syria has passed under our radar, thanks to manipulation of the refugee supporters – who are the main group who would be protesting against another US war in the M/E. My local paper published a letter today, (the third on this page) which explains for me – and probably almost me only – 'no war in my name'.
But at the same time there was this report on the ABC from longtime 'Friend of Syria' Liz Jackson, interviewing former ambassador Ross Burns.:-