Nobel laureate J.M. Coetzee is one of fifty well-known authors and scientists who have signed this open letter to the Canberra public protesting the mass killing of kangaroos which has been taking place annually for some time in Canberra. For those interested in the history of this annual slaughter, Candobetter.net has published at length on this subject here: http://candobetter.net/SaveTheKangaroo. It is wonderful that a number of influential people have now put their names on the line to defend kangaroos from slaughter and kangaroo science from ideology. Many more people are also against this absurd and cruel practice. [Candobetter.net Editor: Republished from http://www.beautifulwild.com/. Also available here: http://www.arcohab.org/#!letter/c1yzj. Also the subject of an article in the Canberra Times.]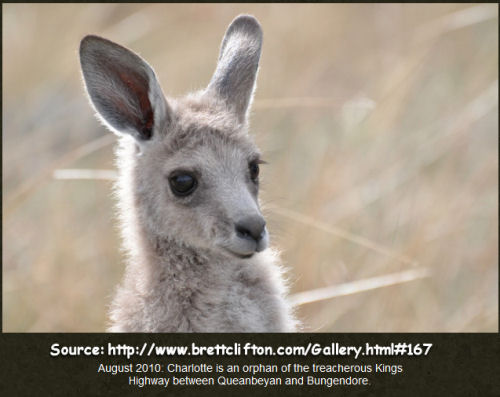 AN OPEN LETTER TO THE PUBLIC OF CANBERRA
We the undersigned believe the need for a mass killing of kangaroos by the ACT Government is ill thought out and cannot be substantiated. The analysis in support of such a program fails the tests of good science, conservation, animal welfare, economy and humanity.
We understand that: no causal evidence of any rigorous kind has been provided that directly links kangaroo grazing on Canberra nature reserves with the demise of other small threatened species. No assessment of the subjective lives of native animals in Canberra's nature reserves is provided as a clue to their survival. No commonly used non-lethal management tools have been advocated by those who believe in the negative impact of the current kangaroo population on the rest of the environment, despite considerable evidence over many years and in many places that they are effective.

The decision to proceed with the killing disregards the extreme brutality of the killing process. There has been no assessment of the impact of mass native animal killings on the local economy and society and our view is that these costs are substantial.

The scientifically substantiated appreciation of other animals' cognitive, emotional and psychological capacities requires that we break the cycle of violence of conventional management methods. Abandoning such measures offers a unique opportunity to find innovative solutions which promote sustainability and reflect the desire of communities for peaceful coexistence with other creatures on the planet.

We therefore call for an immediate cessation of the mass killing of these native animals, and for a full and truly independent examination of the above-listed and other relevant matters by respected professionals.
Pam Ahern, Edgar's Mission Farm Sanctuary, Victoria

Dr Rosemary Austen, kangaroo rehabilitation and translocation expert, medical practitioner, ACT

Dr Jonathan Balcombe, biologist, author, Animal Studies Dept (Chair) Humane Society University, Washington D.C. (USA)

Marc Bekoff, Ecology and Evolutionary Biology, University of Colorado, Boulder (USA)

Dr Dror Ben-Ami, Co-founder and lead researcher, Centre of Compassionate Conservation, University of Technology Sydney.

Dr Jeffrey Borchers, ecologist, the Kerulos Center, USA

Dr Melissa Boyde, Australasian Animal Studies Association; Senior Research Fellow, Faculty of Law Humanities and the Arts, University of Wollongong

Gay Bradshaw, PhD (ecology), PhD (psychology), CEO The Kerulos Center (USA)

David Brooks, author, editor, Hon A/Prof, University of Sydney

J M Coetzee, writer

Claire Colebrook, Edwin Erle Sparks Professor of Literature, Pennsylvania State University (USA)

Dr Margo DeMello, PhD, Animals & Society Institute (USA)

Carolyn Drew, MAdEd, Executive Director of Regions, Institute for Critical Animal Studies

Lara Drew, Ph D candidate, Education, University of Canberra

Ray Drew, MA Communication Grad Cert Psychoanalytic Studies, Wildlife Photographer

Katrina Fox, journalist and author

Professor Steve Garlick, PhD, University of Technology, Sydney

Stephen Graham LLB, Virtual Lawyers and Mediators Pty Ltd.

Dr Jason Grossman, philosopher of science

Naomi Henry, Voiceless Council

Melanie Joy, PhD, Professor, University of Massachusetts, Boston; President, Beyond Carnism; Author

Professor Vrasidas Karalis, Modern Greek Studies, University of Sydney

John Kinsella, author, Professorial Research Fellow, UWA; Professor of Sustainability and Literature, Curtin University.

Lawyers for Animals

David Malouf, writer

Clare Mann, psychologist, author and Managing Director of Communicate31

Jeffrey Masson, Ph.D., Author

Alex Miller, writer

Raymond Mjadwesch, ecologist

Alison Moore, Ph.D., Faculty of Law, Humanities and the Arts, University of Wollongong

Nic Nassuet, singer/songwriter (USA)

Mark Pearson, member NSW Legislative Council

Teja Brooks Pribac, The Kerulos Center; PhD Candidate University of Sydney

Daniel Ramp, Ph.D., Director, Centre for Compassionate Conservation, University of Technology, Sydney

Tracy Ryan, author

Stephen Sewell, playwright

Lynda Stoner, Animal Liberation NSW

Bill Taylor Ph.D., retired CSIRO plant scientist

Maria Taylor Ph.D., science communication, author, newspaper publisher

Associate Professor Nik Taylor, School of Social and Policy Studies, Flinders University, South Australia

Marianne Thieme, Leader & Chair, Party for the Animals, The Netherlands

Dr Christine Townend, author, founder Animal Liberation, NSW, co-founder Animals Australia

Dr Richard Twine, Co-Director, Centre for Human-Animal Studies, Edge Hill University (UK)

Dinesh Joseph Wadiwel, Ph.D., Socio-Legal Studies and Human Rights, School of Social and Political Sciences, University of Sydney

Brenda Walker, writer, Winthrop Professor of English and Cultural Studies, University of Western Australia

Bren Weatherstone, M.Env Sci., teacher (ACT)

Elizabeth Webby, Professor Emerita, Australian Literature, University of Sydney

Dr Richard J. White, Senior Lecturer in Human Geography, Sheffield Hallam University (UK)

Professor Stuart White, Director, Institute for Sustainable Futures, University of Technology, Sydney

Phil Wollen, OAM Founder of Winsome Constance Kindness Trust

Gypsy Wulff, Teacher, Author, Publisher, Founder of Spirit Wings Humane Education Inc.
Further action:
If you would like to help the campaign to stop the A.C.T. Government kill of kangaroos, please sign the Animals Australia petition: http://www.animalsaustralia.org/take_action/stop-kangaroo-slaughter-ACT
Petition to Shane Rattenbury, MLA, Minister for Territory and Municipal Services, A.C.T. : https://www.change.org/p/shane-rattenbury-end-the-cruel-slaughter-of-kangaroos-on-public-reserves
Link to The Alliance for Respectful Co-habitation: www.arcohab.org
Taking action! If you live in or near the Australian Capital Territory, and would like to help out in the field by helping to monitor the reserves, please email Carolyn Drew at [email protected]
NOTES
Candobetter.net: Thank you to Brett Clifton for his wonderful site with photographs of many kangaroos at http://www.brettclifton.com/Welcome.html from which I have sourced the photographs in this article.