#EFF8FB;line-height:120%;">

550 men decided to leave Moadamiya and surrender to the Syrian Army. All were taken to a rest house and served with dignity. Then 50 at a time were taken to the frightening Air Force Intelligence headquarters for two hours of discussion and registration. They will spend one more night in the rest house and then the majority will be able to go back to normal civilian life. Those who have perpetrated crimes will be kept in this rest house for a rehabilitation period.
It is the FIRST time that we have seen such a thing in Syria.
These matters of facts are UNIQUE in the history of the Syrian conflict. No one entered at the air force security services and went out in two hours unless to the grave! A transformation is ongoing.
Agnes-Mariam of the Cross, Head of the International Support Team for Musalaha (Reconciliation) in Syria.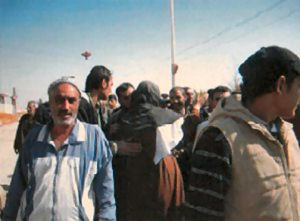 The real story of Moadamiya
October 31, 2013
And how the 'release' of over 5000 women and children was negotiated and secured by a team led by Mother Agnes Mariam.
While Western media have been talking of the siege of Moadamiya – of a siege imposed on suffering civilians by the ruthless Syrian army – and of the urgent need for intervention to prevent starvation, Mother Agnes has been working steadily with ALL parties to the conflict to negotiate a way out of this deadly confrontation for the innocent civilian population trapped in the suburb of Damascus.
On Tuesday, 29th October, the final stage of the plan was achieved, and all those civilians wishing to leave were able to reach the safety of a government 'guest house' in Damascus, where they will stay until new plans can be made when the Syrian army 'liberates' Moadamiya from the remaining 'rebel' fighters.
This photo reportedly depicts Mother Agnes proceeding into rebel territory under the anxious eyes of those she has left. She is carrying a white flag. "Despite the entreaties of her team, Agnès-Mariam is producing a white flag and adventure beyond the entrance arch, in rebel territory, a no man's land known for hiding 12 snipers among the deadliest. Members of the team are watching anxiously for her. Her team follows her. Joined by Sister Carmel and two members of her team, Mother Agnès-Mariam is welcomed by the men of the revolution that came without their weapons. Out of the factory they find themselves with women from Mouaddamiyya waiting for their evacuation."
You may read Mother Agnes's account of what has been happening for the last couple of weeks, as well as showing how a remarkably committed and brave single person can change the course of an intractable conflict on the "Step Back Site." This site has the mission of appealing to journalists reporting on the war in Syria to question pro-war statements by politicians.
The site is not in perfect English and some photographs are missing. This is why I did not transcribe it here. I did not want to confuse any of the message, which is one of bravery and day by day negotiations with warlords.