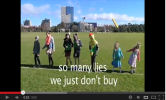 Final Reminder : Rally "Say No to the East West Link - Yes to Doncaster Rail" Tuesday 20 August 2013 12:45 pm for 1 pm start to 2 pm Steps of Parliament. It is DDay for the future of Melbourne. Our inner city suburbs and our parks - Royal Park, Travancore and the Moonee Ponds Creek- will be bulldozed and destroyed if the juggernaut of the East West Link is constructed, unless we act now.
The rally is being initiated by community groups and is being hosted by the Coalition of Transport Action Groups (CTAG) whose coordinators are Protectors of Public Lands Victoria Inc. and the Yarra Coalition for Action of Transport (YCAT.) It has the support of the City of Yarra which has been running the excellent "Trains Not Toll Roads "campaign. See website http://www.yarracity.vic.gov.au/trains-not-tollroads
See the video, "Lies we don't buy," about the East West Link.
Why 20 August is our deadline
The 20 August 2013 is the first day of Parliament after the winter recess. It is imperative that the rally be held on this day as the Amendment relating to the East West Link to the Major Projects Transport Facilitation Act 2009 is due for the second reading and debate in the Legislative Assembly. It signals that the Government is trying to fast track the EW Link; further reduce consultation and public input; and hand over authority to the project proponent - Linking Melbourne Authority - who will be able to change the rules as the project proceeds and as it sees fit. (Just look at the LMA website with photos of the construction of EastLink and PeninsulaLink and you will see what we are in for.)
Venu: Steps of Parliament or nearby if not accessible
The venue is the steps of Parliament but you may have to stand on the footpaths opposite outside the Windsor Hotel or the Imperial Hotel as areas of the steps are blocked off. The MC of the rally, Rod Quantock (Atg President of PPL VIC), will given instructions. Please bring placards but not banners as it is likely to be windy. Plus there may not be room on the steps of Parliament. Look forward to seeing you there!
Make your comment here:
Urgent. See Linking Melbourne Authority News Mailout [email protected] Please comment in your own words that you are opposed to the East West Link and advocate instead public transport eg Doncaster Rail. (The Director of LMA is reported to have stated that only a few people have made comments so obviously the public are satisfied with the project! So prove him wrong.)
For queries contact Julianne Bell PPL VIC on Mobile 0408022408 or Freda Watkin YCAT on Mobile 0422650936.
Source: Press release by Julianne Bell, Protectors of Public Lands Victoria Inc. (PPL VIC) and the Coalition of Transport Action Groups (CTAG)