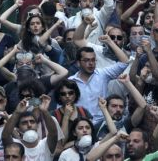 Report of 2 Jun 2013 is republished from PressTV. Like Melbourne's Royal Park, Taksim Square is one of Istanbul's few remaining public spaces. It is also threatened with destruction to suit the selfish needs of developers who wish to erect high-rise residential towers. See also: OccupyGezi! OWS activists stage pro-Turkish rally in New York of 1 June in Russia Today, OWS activists in US rally in solidarity with Turkish protesters of 1 June in PressTV.
Thousands of anti-government protesters have reoccupied Istanbul's iconic Taksim Square despite heavy-handed police crackdown.
Thousands of people returned to Taksim Square on Sunday following two days of violent demonstrations that saw almost 1,000 people arrested.