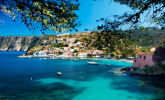 Neighbours squabbling over the back fence. The english language NYT newspaper reports sham dogfights daily between Greek Mirage fighters and Turkish F-15s. A NATO wargame and cyber-wargame around Lesbos was cancelled due to a Greek-Turkey squabble. Turkey still claims all the Aegean islands slap-bang up against their coast. No-one remarks on the irony of 50,000 muslim economic migrants camped up on Lesbos and Samos. "Inhuman racist treatment" scream the UN & liberal left cosmopolitans. But there is silence on the million or more criminal invaders, aka undocumented aliens, camped up in Turkey, in far worse conditions. My. Refugees in Turkey don't even have access to a lawyer! The shame of it!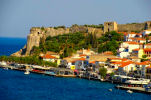 EU statistics
A lot of people like Europe, but I feel uncomfortable as a grey tourist. Long haul Muslim airlines. How to enjoy yourself with dreadful coffee, the country bankrupt, and everyone spending all day & night, sitting around in cafes. Kalamata.
DESPERATE for a newspaper fix I found the only shop in this city to sell foreign language papers -(including Charlie Hebdo). I bought a paper New York Times with Greece supplement. I like the NYT long format thoughtful articles. The richest city on earth can afford to have progressive liberal feelings towards refugees and the downtrodden.