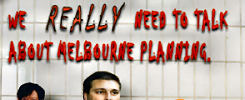 Reading this letter to the Wheeler center about a shocking spin exercise delivered by professional development spruikers, with Roz Hansen (who is also involved in fielding public submissions), one is reminded of the film, We need to talk about Kevin, a film about a totally underestimated problem with utterly dire consequences. In fact, Melbourne really needs to talk about the corruption of democracy via Melbourne planning and development organisations, their contempt for citizens, their infiltration of law-making in parliament, and the gross unsustainability of the philosophy and projects they seek to unilaterally impose - Candobetter Ed.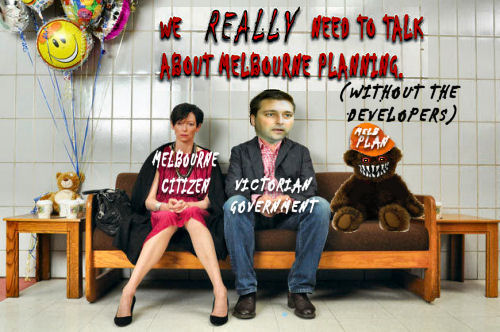 Letter to the Wheeler Center after "We Need to Talk" The Wheeler Centre Books Writing and Ideas – Series on "Ideas for Melbourne" Part 1 "The City of the Future" Wednesday 13 February 2013.
Subtitles are by Candobetter.net editor
The booklet said re 'The City of The Future:' session: "In 30 years, Melbourne's CBD will have another 220,000 new residents. A 'second CBD' has been proposed for Melbourne's west, along with a third runway for Tullamarine Airport – and more green wedge land for housing. Can a big Melbourne remain beautiful – let alone liveable or sustainable? Can we have it all, or do tough choices lie ahead?" The panel consisted of Roz Hansen who is the Chair of the Metropolitan Planning Strategy of Melbourne Committee; Alan Davies; and David Nichols (University of Melbourne?). Jane Rawson was the interviewer.
Vivienne Ortega and Julianne Bell attended this Wheeler Centre evening event.
Here are our comments about the event:
We need to talk about what is happening to our democracy
We considered this exercise a piece of political spin, full of contradictions, and generalities. There were no speakers on the panel debating or contesting statements made by panel members; all 3 were in furious agreement with each other. There was no community involvement and no audience interaction. Few questions were allowed at the end of the session. We considered that it was simply a lecture by growth-lobbyists. We were just being lectured to as to how a "Future Melbourne" could accommodate a rapidly growing population!
Roz Hansen - Ethics and Fairness in question
Firstly, it appeared to us extremely inappropriate that Roz Hansen would be speaking at a public forum with obvious references to the Metropolitan Planning Strategy of Melbourne (MPSM) when she was Chair of the Ministerial Committee which is still receiving public submissions on the MPSM. In our view she was giving us the spin on Government policies which ensures growth for developers, the real estate industry and the road lobby. While Ms Hansen said that she wanted "community dialogue" and to hear what we think, she made it clear that said some topics were "non-negotiable" or off limits. It appeared that one of the "non negotiables" was the topic of trains. She made it clear – and had done so at a community forum she attended with the Minister for Planning Matthew Guy on 21 November 2012 - that the "Future Melbourne" would have buses but not urban rail, apart from the underground Metro rail. It would of course have the East West Link tollway/freeway.
Hobson's Choice promoted as Consumer Choice
The panel was of the opinion that, with population increase, people would "choose" apartments and high density living. We see this as Hobson's choice, that is, no choice at all. Many people have not now, and will not have in the future, any other affordable alternatives to high density living. No mention was made of the inevitable increase of per capita greenhouse gas emissions, and the denial of facilities enabling residents to reduce consumption and energy, reuse and recycle.
Mythologising exercise
There was an assumption by the speakers that "empty-nesters" will want to buy apartments and units. We know it has found to be a myth that the retired and the elderly want to "downsize". Many want to stay in houses with gardens and keep their rooms for family and guests. (We have been through this argument with Bernard Salt who took a more extreme line stating that widows should move out of their large houses in the leafy suburbs to provide accommodation for incoming family groups of migrants.) [See Should Jeannie Pratt and Elisabeth Murdoch downsize to high rises in Activity Centers to give young people more room?]
Urban Parks for food production; shopping mall walks for exercise
It was suggested by one of the university academics when the subject of "food security" was raised that urban parks could be turned over for food production and that residents could exercise by walking in shopping malls. Presumably people would be denied back gardens though this was not specifically discussed. In the context of food security it was suggested by one of the speakers that more "intensive farming" could take place in the outer urban growth areas. To us it meant more factory farming, which is cruel and unethical. (Many animal activists want to put an end to it.) We are of the view that our food bowls and green wedges should be protected. Roof top gardens and parks are not a viable alternative.
False perception of inevitability dishonestly imposed on public
It was assumed by the speakers that this "future" spelt out for Melbourne with a rapidly growing population – 6.4 million by 2050 - was inevitable. We say it is not inevitable as the high net overseas migration intake could be capped and reduced as it has been in the past. We consider that the terms "sustainability" and "growth" are oxymorons. Anthropogenic climate change can't be addressed with an economy based on population growth.
Spin cannot hide increasing congestion and no solutions in sight
The "20 minute city" – one of the principles of the MPMS - is to us a contradiction in terms. The proposed growth of Melbourne will inevitably cause more congestion. Infrastructure continually fails to keep abreast of population growth. Rather than more buses, we need more linked public transport and trains. If we cannot manage with congestion and traffic gridlock now why could we manage any better in the future?
Resounding Silence on development-threatened Green Wedges
We consider that our green-wedges are not for housing - they have a purpose as our "green lungs" and should be protected. This was not discussed.
We were of the view that trying to maintain Melbourne's status as a "liveable" city, and "sustainable", are contradictions if our population is "projected" to be 2 million more by 2050 - at a time of severe climate change warnings and increasing scarcities of natural resources.
Homelessness swept under carpet
The problem of "homelessness" was not discussed. It is related, in our view, to the power of developers, grabbing rooming houses for "developments", and forcing up the price of family homes over what is affordable by those on normal fixed wages.
The threat of racism arising from unwelcome mass immigration was not discussed.
Sneering, out-of-touch panellists artlessly contemptuous of public
We were offended by the supercilious rather sneering tone of panellists and comments made. One panellist referred to the "great unwashed" from the outer suburbs. The other male panellist commented that with population pressure new suburbs were becoming "trendy" and expressed surprise that even in Preston growing a moustache was now acceptable and one could get a café latte there. We thought this showed contempt for the audience.
There were few questions, no real vision or strategy for improving or enhancing our city, and there was no chance for the audience to challenge the panel's opinions. The "Ideas for Melbourne" lacked balance and a contrary side of the debate.
Signed:
Julianne Bell, Secretary, Protectors of Public Lands Victoria Inc.
Vivienne Ortega, Secretary, Sustainable Population Australia (Victorian and Tasmanian Branch)
28 February 2013