Links for action to help animals added end of page on 23 October Despite pouring rain, perhaps 1000 people attended the Anti Live Export Rally on the steps of Melbourne Parliament on Saturday 6 October 2012. One observer said it was the biggest rally she had ever attended. Among those who addressed the crowd was Animals Australia campaign director Lyn White, whose risk-taking to expose international abuse of sheep and cattle makes her one of the bravest people in the world. Another speaker in the crowd was Kelvin Thomson Labor MP, who also shows more daring than his parliamentary colleagues in this matter and for having campaigned against overpopulation in Australia and elsewhere.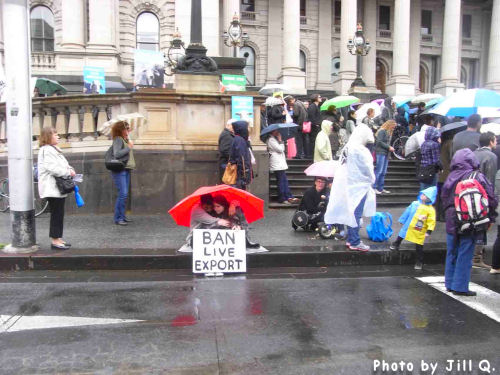 Another observer described the massive gathering in front of parliament House Spring Street.
"Soon after I arrived the crowd spilled onto the road and the rally continued for about one hour with the crowd fully occupying Exhibition Street opposite Parliament House. There was chanting from the crowd led from the front -'No ban, no vote, get the animals off the boat,'"
As the speakers began, the skys opened and up came the umbrellas. Glenys Oogjes of Animals Australia introduced Lyn White of Animals Australia. Lyn who has brought the attention of the public to the atrocious treatment of animals exported from Australia gave an impassioned and determined speech saying that we will win on this issue.

Thomson highlights Dept Primary Industry conflict of interest
This interview with Kelvin Thomson was broadcast on October 3, 2012.
Kelvin Thomson was forceful in his opposition to live animal exports. He highlighted a conflict of interests with the department of Primary Industry overseeing animal welfare and advocated that a separate animal welfare department be created. He also advocated that abattoirs be set up in Australia for export meat – slaughter and processing - and that the live export trade should be phased out all together.
Adam Bandt the member for Melbourne was also warmly welcomed by the crowd.
It seems remarkable, but true, that Australians will do more politically to demonstrate how much the treatment of animals matters to them than on any other perennial matter. It is obvious that politicians and the commercial press wish this fact would go away and hope it will if they ignore it. Parliament seems dominated by small-minded bean-counting meanies whose decisions repeatedly indicate an absence of empathy to a degree more usually associated with psychopaths. Australians, classically disorganised by the colonial practice of divide and conquer and the associated structural chaos of constant urban adjustment to continual population growth, still manage to get together for domestic animals. Let us hope that this capacity to organise will spread to protect indigenous fauna and their habitat. There is no doubt that Australians also care enormously about indigenous animals, but somehow they are not yet able to reach these peaks of social impact.
Some ways you can help the animals
Download an action pack from Animals Australia
Here is where you can download leaflets.
Here is where you can go to write a sample letter and send it on-line. #takeAction">http://www.banliveexport.com/1/#takeAction"
More ways to help animals: