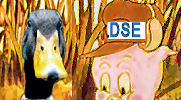 Department of Sustainability and Environment (DSE) and the Department of Primary Industries' (DPI) court cases against five duck rescuers falls apart. Rescuers found guilty of only one of five charges. Magistrate refuses to award the $18,000 court costs because of DSE wildlife heavy handedness in arresting rescuers final weekend last years' duck-shooting season and criticizes wildlife officers for refusing warmth to rescuer. Magistrate says legal for rescuers to be on the water, expresses surprise that DSE did not provide care for injured birds at the wetlands - that it was left to duck rescuers to do this. No rescuers convicted or fined. No court costs. Rescuers good behaviour bonds until October this year.


Government departments fail to suppress duck rescuers, waste scarce court resources and taxes
Following a six-day hearing [!] in the Melbourne Magistrates' Court in March this year, five duck rescuers were today each acquitted of four charges out of five. Each were found guilty of only one charge when rescuing waterbirds on wetlands near Kerang, in northern Victoria, during the final weekend of the 2011 duck shooting season.
Magistrate Mealy found the charge of 'hindering' proved against rescuers Luke Milroy and Lucas Treloar. The charge of operating noise producing equipment, being a whistle, in a manner likely to cause unreasonable inconvenience or nuisance to any person contrary to the Wildlife (SGR) Regulations 2004 was proved against Linda Duckham, Penny Cameron and David Mould. They were given undertakings (good behaviour bonds) without conviction.
DSE Prosecution fails to get costs
Prosecution costs of approximately $18,000 were sought by the Department of Primary Industries (DPI), but refused. The Magistrate observed that the Department of Sustainability and Environment (DSE) had not been even-handed in the laying of charges (with the DPI prosecuting). He indicated that the Department appeared to hold rescuers responsible for the provision of vets at the wetlands, when the Department should be responsible for the welfare of wildlife.
Wildlife Officers known duck shooters: conflict of interest needs Omsbudsman
Coalition Against Duck Shooting Campaign Director, Laurie Levy, today said: "Last year, DSE compliance officers planned a 'sting' that was code-named 'Operation Bolte' - after the late Victorian Premier, a keen duck shooter - with the aim of cracking down on rescuers in what can only be seen as a blatant attempt to accommodate their duck shooting mates.
"Most of these compliance officers, who are now all working in the newly established 'Game Victoria' within the DPI, are themselves known duck shooters.
"These officers have a serious conflict of interest which must be investigated by the Ombudsman's office."
Undemocratic abuse of taxpayer's time and overburdened court system
"The charges against rescuers have resulted in an enormous waste of taxpayers' money and court time, especially when Magistrates' Courts throughout the state are clogged up and unable to hear important cases for months on end, and when the majority of Victorians oppose the recreational shooting of native waterbirds and want this activity stopped," Levy said.
Source:
Laurie Levy,
Campaign Director
Coalition Against Duck Shooting
MEDIA RELEASE, Thursday, June 7, 2012