New French Minister for Industry in France says globalisation is extremist policy and that France, Europe and other westernised countries need to protect themselves from total free-market doctrine. He also proposes external taxes, including on carbon emissions for imported products. This is a fascinating interview for citizens of Anglophone countries who feel that free-market ideology has replaced democracy.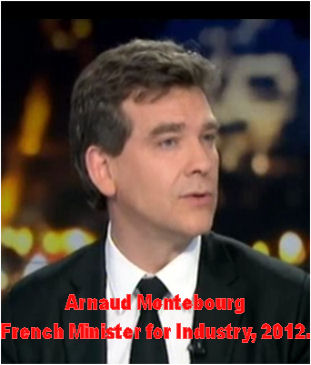 This is a transcript and translation of an interview with Arnaud Montebourg, the new French Minister for reestablishing manufacturing industry. The interview took place on France2's Journal Télévisé[1] on Thursday 17 May 2012 at 2000h. The interviewers were Julien Bugier (the news presenter) and Fabien Amias.
Interview with Arnaud Montebourg, the Minister for Reestablishing Productive Industry.
750,000 manufacturing jobs have been lost in the past
10 years and 900 factories have closed in the last three years in France. Ten years ago 28 per cent of France's economy was manufacturing. Now it is 13 or 14 per cent. According to Minister Montebourg, France is "deindustrialising even faster than the UK which has the reputation at the moment of having almost no manufacturing left at all."