What you won't hear from Labor or Liberal spokespeople about the causes of the Queensland election result.
Cost of living has been given as a major cause of Labor's loss in the Queensland elections 2012, but the real reasons for these rising costs are skirted. The Liberals have even tried to pin these costs on taxes that have not yet been used. See also James Sinnamon's articles about privatisation and population policy in Queensland and how he tried to call the government, the unions, and the Greens to account on these well before the 2012 elections.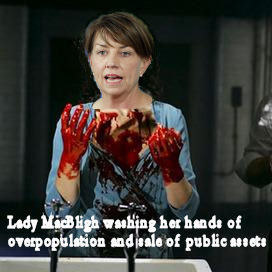 By Dr John Coulter, 28 March 2012
(Headings and illustration are by Candobetter editors).
Most surveys and commentaries have identified 'cost of living' pressures as one of the main factors leading to the collapse in Labor support in Queensland. But few commentators have sensibly analysed the reasons for rising living costs and some have mistakenly dismissed the clear link to Federal Government policy. Many Liberal commentators have wrongly tried to blame rising living costs on taxes which have not yet been implemented.
Objective evidence that living costs are rising
Queenslanders' perception that living costs have been rising is supported by objective evidence; these rising costs apply across Australia and have been evident for some time. Ross Garnaut's climate change update published in March 2011 pointed out that electricity prices had risen by 32% in real terms between 2007 and 2010 'well ahead of the general increase in prices and faster than growth in the average wage'(1). Household electricity prices have been rising faster than those in other advanced economies since 2007.
Electricity more expensive
Garnaut identified the cost of upgrading the electricity network as the 'single largest cause of price rises' accounting for about 68%. His Report recognised especially the low voltage distribution network which was requiring enormous expansion in order to service a rapidly increasing number of consumers. Thus Garnaut established that population growth was a major factor driving up electricity prices. He predicted that these costs would continue to rise presumably because governments continue to pursue polices of high population growth.
Water more expensive
What is true for electricity is also true for water. ABS data show a 10% increase in household water costs between 2008-9 and 2009-10, three times the average CPI and with very wide variation between states and regions. In a 2011 ABC news item Queensland Urban Utilities says the hike is necessary to pay for the $9 billion south-east Queensland water grid, an area of rapid population growth. Population growth has led NSW, Victoria, South Australia and WA to build desalination plants producing very expensive water.
Infrastructure does not pay for itself
And so it goes with a wide range of infrastructure services. New people, whether they be Australian born or immigrants, need roads and hospitals, schools and police, sewage and rubbish collection, electricity and water. The cost of these services is not instantaneously borne by these new people; they are borne by existing citizens or, as more frequently happens, infrastructure falls behind need and existing citizens suffer worse services. Roads, schools and hospitals become more congested.
Infrastructure does not last forever. It has been estimated that across all infrastructure, approximately 2% must be replaced each year just to maintain the existing level of service. Two years ago Australia's population was growing at 2% per year meaning that we had to spend twice as much on infrastructure just to keep pace with population growth (2). In that year Infrastructure Australia estimated that we needed to spend $730 billion or approximately half our annual GDP just to get the country's infrastructure up to scratch (3).
Privatising public assets to pay for population growth and still not managing
Fortunately, Australia's rate of population growth has declined somewhat but is still running at 1.4%. Thus we must continue to spend 70% more on infrastructure, just to stand still, compared with what would be needed with a stable non-growing population. Anna Bligh sold public assets in an unsuccessful attempt to match new infrastructure requirements to population growth. She failed on both counts.
Australia does not need to grow its population. We are in a situation in which the costs of population growth outweigh any benefits. Those who do benefit are some of the business interests that make large donations to the two big parties. Herein lies an explanation why, with the exception of Kelvin Thomson (4), none of the Laborial members who have commented on the Queensland election have identified population growth as the reason for large cost of living increases and the demise of the Bligh Government.
Public are right that life is becoming harder in Australia
A second reason lies in the way the main economic indicator of progress and success (GDP growth) misleads and is used by governments to deliberately mislead. Most government spokespeople and most economic commentators use the glib euphemism 'Standard of Living' which, when linked to rising GDP, is used to imply that we have never had it so good. GDP is measured in dollars. It makes no distinction between money spent on things that positively improve life and money spent on avoiding the costs of growth. For example, as cities grow and more people live further from their place of work, the additional costs of transport add to GDP. These are costs masquerading as benefits. The increased costs of electricity and water mentioned above add to GDP. When better based, more comprehensive measures of economic progress are used, such as the Genuine Progress Indicator (GPI), we see that the latter has been falling further behind GDP since the mid-70s (5). In short, we really are becoming worse off!
It follows, the perception that the cost of living has risen steeply is well based. Life is becoming more difficult. Will the Liberal and Labor parties learn these two lessons: move to curb population growth and start using much better measures of social and economic progress? Until they do the electorate will become ever more angry, more disaffected by hollow political rhetoric and will continue to throw out governments that cannot deliver, governments that are steering toward the wrong goals.
References:
1.
Professor Ross Garnaut, Transforming the electricity sector, Climate Change Review Update 8,tinyurl.com/garnaut-review8
2.
Dr Jane O'Sullivan, http://www.onlineopinion.com.au/view.asp?article=10137&page=0
3.
Infrastructure Australia, June 2011 Report to COAG Communicating the Imperative for Action
4.
Sky News's AM Agenda on 26 March 2012 http://www.youtube.com/watch?v=X_18xEcPAPk&list=UUHJgaKR3Glj9bQW4VHYr35A&index=1&feature=plcp
5.
Dr Phillip Lawn, Senior Lecturer Environmental Economics, Flinders University, Personal Communication