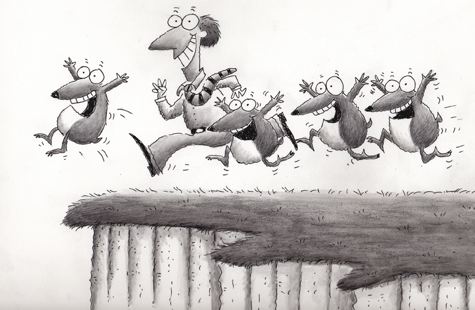 Europe's current debt crisis has been blatantly caused by well known financially reckless governments. But the problem of the reckless is being allowed to drag down sound responsible economic states into bailing out the financially reckless ones. Why?
Why dig a bigger hole? The only benefit offered is to maintain unity for unity sake. But the 'rescue package' repeatedly talked about does not address the underlying causes of the financial problem, nor entail removing the culpable captains of the reckless spending and borrowing. It is past time to cut the tether to prevent the ship sinking.
Ireland, Portugal, Greece, Spain and Italy have all but become insolvent sovereign states. Since their respective governments allowed their debt to spiral out of sovereign control, they have breached the European governance standards of being sovereign members. They should be declared bankrupt and expelled from the European Economic Community.
But do reckless governments have a representative right of the people to make responsible decisions? No. So the vote needs to be democratic.
The vote is one of direct democracy.
Instead, European 'groupthink' has prevailed into a 'eurothink' allowing the euro zone debt crisis to escalate. Ultimately, the governments of sound financial managers Germany and France are retrospectively assuming guarantor financial responsibility for reckless gamblers - Ireland, Spain, Greece, Portugal and Italy.
But government aristocrats have no democratic right to commit their people to external debt, with a plebiscite. Going guarantor for the hundreds of billions of unpayable debt of these countries means raising taxes, and sovereign financial exposure (bonds) to another countries debt.
The euphemism 'rescue package' is misleading.
Germany needs to get out quick or be dragged into a spiral of uncontrollable debt.
No responsible leader in Europe has yet postulated the ultimate risk scenario for Europe, but it is very real. Is it worse for insolvent member countries to be expelled from the EEC, or for Europe to financially collapse outright?
Europe's government aristocracies are transfixed in 'Eurothink' and the people recognise this whole issue as patently anti-democratic.
When it comes to ultimate risk, the consequences for group-think decision-making, risk becoming catastrophic.