This morning QANTAS Airways, Australia's iconic national carrier and leading international airline, experienced a disturbing mid-flight incident when one of its massive 500-odd seat Airbus A380-800 aircraft had an engine failure and a section of engine cover fell off. Apparently the number two (inner) engine failed on it's left wing and had to be shut down.
The QANTAS international flight QF32 from London to Sydney after scheduled refuelling at Singapore Changi Airport turned back to Singapore and made an emergency landing.
[Source: 'QANTAS: Plane engine malfunctions, No crash' by Christine Jared-Perrin (Reuters) 4th November 2010 12:24 PM AEST].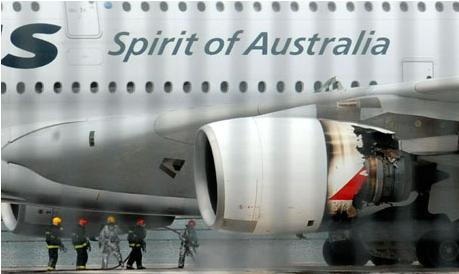 But full praise to the professional emergency response by QANTAS deck and flight crews to see the massive plane and all aboard safely landed without injury!