This morning QANTAS Airways, Australia's iconic national carrier and leading international airline, experienced a disturbing mid-flight incident when one of its massive 500-odd seat Airbus A380-800 aircraft had an engine failure and a section of engine cover fell off. Apparently the number two (inner) engine failed on it's left wing and had to be shut down.
The QANTAS international flight QF32 from London to Sydney after scheduled refuelling at Singapore Changi Airport turned back to Singapore and made an emergency landing.
[Source: 'QANTAS: Plane engine malfunctions, No crash' by Christine Jared-Perrin (Reuters) 4th November 2010 12:24 PM AEST].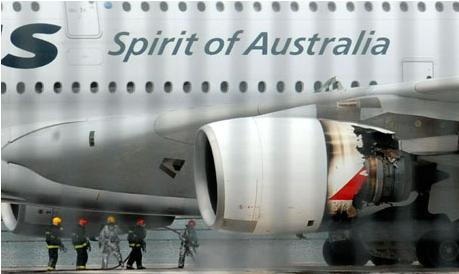 But full praise to the professional emergency response by QANTAS deck and flight crews to see the massive plane and all aboard safely landed without injury!
Number two engine of a total of four Rolls Royce engines was reported as having suffered an explosion and losing its rear housing while at high altitude over the Indonesian island of Batam, only six minutes after taking off from Singapore.
#FFF380;">
Locals in Batam reported hearing a loud explosion and then seeing metal rain from the sky.
Debris, including a piece bearing part of the airline's red-and-white "flying kangaroo'' emblem, slammed into industrial and residential areas of the city.
"I didn't see a plane crash but I heard a loud explosion in the air. There were metal shards coming down from the sky,'' witness Noor Kanwa said.
Witnesses said the explosion had been very loud and they had seen flames coming from the plane.
"What we know for the moment is that the engine . It's a fault on the rear part of the jet motor that led to a serious damage," a spokeswoman for the plane's manufacturer (BAE) in Paris said.
QANTAS had 433 passengers and 26 crew on board the Airbus.
[Source: 'Qantas A380 makes emergency landing in Singapore' by Geoff Easdown, Herald Sun, AP, AAP, AFP 4th November 2010].
---
While QANTAS Airlines chief executive Alan Joyce has suspended all of its A380 aircraft services due to the incident, Lufthansa, Emirates, Air France and Singapore Airlines HAVE NOT grounded their fleet of Airbus A380 jets. Why? What makes them so confident with their same A380s and Rolls Royce Trent 900 turbine engines to continue business as usual?
Such response by other carriers means that the problem was not an Airbus manufacturing cause, but a QANTAS maintenance failure. The aircraft had just flown from London without reported incident, so what happened to the engine at Singapore? Were adequate safety checks performed on the engines? Had their been an ingestion of debris to cause the turbine to fail? But the erupting Mt. Merapi volcano is a thousand kilometres south of Singapore.
Was it a compressor surge in the engine turbine? Was there any record of high exhaust gas temperature, low engine pressure ratio, low rotor RPM , oil or fuel filter problems or high oil temperature. If so, does any of this consequential of substandard maintenance?
How transparent will the findings be?
QANTAS has a recent history of airline maintenance problems and consequential operational incidents. Engine failures are becoming all to common at QANTAS.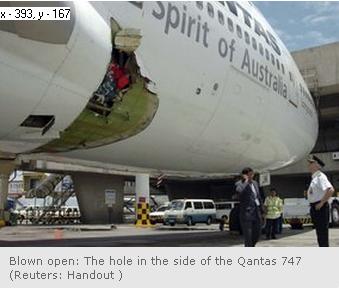 Corrosion mid-flight incident in 2008
Refer to the article on CanDoBetter.org website 'Low Cost Airline Menace: Once Qantas Crashes Goodbye Qantas Reputation, Goodbye Qantas' of 2nd September this year.
Back in 2008, QANTAS workers complained publicly over what they observed as deteriorating standards in QANTAS' aircraft maintenance as a direct result of QANTAS management policy to cost cutting by laying off maintenance staff and off-shoring the work to cheap inferior overseas labour.
According to an article by the the Australian Manufacturing Workers Union (AMWU) on 10th September 2008:
#FFF380;"> 'Off-shoring, contracting out and cost-cutting by QANTAS is impacting on maintenance standards according to a new poll of Qantas maintenance workers.'
The poll of 200 members across worksites in Sydney, Brisbane, Tullamarine and Avalon reveals 83% are worried about safety of QANTAS aircraft due to staffing pressures and off-shoring.
When asked about the effects of contracting out, outsourcing or off-shoring:
• 69% agreed work needed to be re-checked more often

• 67% agreed work has to be re-done before it meets standards

• 62% agreed QANTAS has a cheaper service but corners are getting cut
AMWU National Secretary, Dave Oliver, at the time had said that Qantas workers...
"are extremely concerned about the damage to the safety reputation of QANTAS, built up by hard work over the years that is now in danger of being undermined by the impact of cost-cutting by QANTAS with off-shoring and contracting out.
"The AMWU has been warning QANTAS for years that off-shoring and contracting out has negative impacts on maintenance work, and our concerns are backed up by CASA's finding that safety levels have fallen below QANTAS benchmark standards."
"QANTAS posted a record profit this year, but we need to ask at what price?"
"They owe it to the Australian flying public to listen to the concerns of our members and stop outsourcing and bring maintenance work back in-house" said Mr Oliver.'
[Read More: 'Qantas workers concerned over maintenance standards' 10th September 2008].
Cheap maintenance will catch up with QANTAS and beckon its tragic ruin. Low-cost carriers and high altitude don't mix. CEO Alan Joyce's perpetuating policy of cheap maintenance is not an ethical competitive strategy for a trusted public airline, it is a deceptive public time bomb.
I don't fly QANTAS, it's not safe!
See also: Low Cost Airline Menace: Once Qantas Crashes Goodbye Qantas Reputation, Goodbye Qantas
---
Recent Background on QANTAS Maintenance Record


2010: New South Wales Parliamentary Speech by Paul Gibson, NSW Legislative Assembly 22 April 2010 - 'QANTAS MAINTENANCE AND SAFETY' [NSW Hansard Page: 22213]
#FFF380;"> Mr PAUL GIBSON (Blacktown) [5.38 p.m.]:
"Today I speak about a subject that has been brought to my attention by many of my constituents, as well as people living elsewhere in New South Wales and right across the country. I refer to Australia's greatest airline, Qantas. For many years it was the first choice to fly with. It has jumped from the first choice to fly with to endless examples of near disasters. I would like to document some of those cases now so we can get a clear idea of what is happening.
In January 2008 a Qantas Boeing 747 lost power as it attempted to land in Bangkok. In May 2008 an unqualified engineer allegedly performed nearly 2,000 maintenance jobs on Qantas airliners over a 10-month period. In July 2008 QF 30 landed in Manila and the pilot made a startling admission: there was a great hole in the side of the plane. A passenger recalled him saying, "I don't know how it got there." In July 2008 passengers on a Qantas jumbo jet badly damaged at 29,000 feet near Manila were starved of oxygen for several minutes after supplies were lost. On 11 August a Qantas 737 flight from Perth to Sydney appeared to be low on fuel before the pilot realised that the reserve fuel tank switches had not been turned on. On the Monday of that week a 767 bound for Melbourne had to return to Adelaide after landing gear failed.
It was revealed in July 2008 that the in-flight recordings of the mid-air crisis that left Qantas flight 30 with a gaping hole had been lost. Also, in August 2008 a Manila-bound 767 began leaking hydraulic fluid from a critical steering unit on take-off from Sydney airport. That was reported in the Daily Telegraph on 13 August 2008. On 10 August it was reported that a plane returned from maintenance in Malaysia with 95 defects. On 8 August a flight was prevented from flying to Los Angeles because screws needed to be replaced. The Civil Aviation Safety Authority [CASA] investigated Qantas and found that it was not meeting its required maintenance benchmarks. On 3 September 2009 the media reported:
A QANTAS jumbo jet involved in a terrifying mid-air explosion last year, when an oxygen cylinder tore through the fuselage, was forced to make an emergency landing yesterday after a fuel leak was detected on a flight to Sydney.
On 14 January this year safety practices for Jetstar were examined and found to be very poor and ineffective. On 17 February this year Qantas Airbus A330-200 bound for Shanghai had to return to Sydney airport after the aircraft's landing gear failed to retract fully after take-off. On 1 April this year witnesses saw flames and sparks and heard a loud noise like cannon fire as two tyres on a Qantas A380 burst on landing at Sydney airport. On 6 April this year Qantas passengers on a flight from Los Angeles were 17 hours late arriving in Brisbane. They were late because passengers were unable to take off in the original Boeing 747 because the aircraft reported engine trouble. They were transferred to a second plane but the replacement plane failed to start; they could not start the engines.
On 6 April this year a London-bound plane carrying 335 passengers was forced to return to Bangkok because of engine problems. The latest critical incident comes after a flight from Melbourne to Los Angeles was delayed for several hours due to a cracked windscreen. Even on Sunday a Qantas plane was in all sorts of trouble when it left Los Angeles because the door became loose and they had to fix it with wet towels. Qantas keeps an internal Toxic Fumes Event Register. Between 2007 and 2008, 31 shocking, separate incidents were reported in that register. These are only some of the records I have on such matters. It is imperative that the Civil Aviation Safety Authority examine the matter and that an independent inquiry be undertaken to ensure that Qantas, which has always been the safest airline, remains the safest airline and to protect people's lives."
---
2009: 'Qantas workers cop longer hours to keep jobs' (by Daniel Hurst, Brisbane Times, 11th May, 2009)
#FFF380;"> 'More than 500 Qantas heavy maintenance workers in Brisbane have accepted they will have to work longer hours in return for job security, the union says.
At a time when recession-hit companies are announcing job losses on a daily basis, Qantas today promised workers at its $85 million heavy maintenance facility that their positions will not evaporate as the airline phases out its Boeing 767 fleet.
Qantas chief executive Alan Joyce said the 510 existing workers would take care of the airline's growing Airbus A330 fleet from early next year.
This work is currently performed in the Philippines.
"We have reached an agreement that will deliver workplace flexibility and greater job security," Mr Joyce said this morning.
"It's a win for Queensland, it's a win for Brisbane, it's a win for Qantas and it's a win for the future of aircraft engineering jobs in this country."
The announcement comes one month after the national airline revealed it would sack 500 management employees, cut capacity by 5 per cent and defer aircraft orders in response to a "rapid and significant deterioration of trading conditions".
Qantas said the cuts would affect 1,250 full-time equivalent positions, through either redundancies or forced annual leave, long service leave, attrition, redeployment, leave without pay or a move to part-time work or job-sharing.
Today, Australian Manufacturing Workers Union site convenor Stuart Cook said workers at the Brisbane heavy maintenance facility had agreed to work 10-hour shifts to prevent their positions from being sent overseas.
Employees would have to get used to working from 5.30am to 3.30pm or from 3.30pm to 1.30am, Mr Cook said.
"We had a spread of hours which were a lot shorter previously; now you'll start work earlier and leave later, although you have more days off in between," he said.
Mr Cook said negotiations involved a lot of "argy bargy", but workers had secured 3 per cent annual pay rises.
"We'd have to say it was probably the best deal we could have done in these times," he said.
"As we've said previously, it's been very challenging, we've been negotiating for quite some time with the company.
"The current economic environment has certainly changed the views of a lot of members.
"There's a lot of changes to make around lifestyle and family, but in the end the members felt that was the best way to go."
Premier Anna Bligh said the Queensland Government had persuaded the airline to establish the $85 million heavy maintenance facility in Brisbane in 2005, but workers faced an uncertain future as the airline phased out its Boeing 767 fleet.
Ms Bligh said she had met with Qantas last year and was told there was a good chance heavy maintenance work on the A330 fleet would be done overseas, but the company and employees had since come to an agreement.
Ms Bligh said newspapers were full of bad news about job losses because the global recession was severely affecting job security.
"I want to congratulate Qantas for swimming against the tide," she said during a visit to the facility.
"This is good news in tough times and good news has been hard to come by."
Australian Workers Union national secretary Paul Howes said the decision to maintain the Airbus fleet in Brisbane rather than the Philippines would help Australia protect its "skill base".
The Qantas Group operates 22 A330 aircraft, including six Jetstar A330-200s, and expects to take delivery of an additional two A330s in the next year.
In a statement, the company says 80 to 90 per cent of heavy maintenance work is carried out in Australia, while the work that is carried out offshore "is mainly overflow work".
---
2008: 'Qantas rebuked over maintenance problems', (by Mathew Murphy, The Age, 2nd September 2008)
#FFF380;"> 'THE air safety watchdog has issued a sharp rebuke to Qantas, ordering the airline to take "a long, hard look" at its maintenance operations and improve its performance, which has failed to meet its own benchmarks.
In its harshest assessment ever of Qantas, the Civil Aviation Safety Authority found the airline needed to take immediate action to head off "emerging problems" in its maintenance operations.
CASA said that while Qantas was still a safe airline, it needed to act on its maintenance issues immediately to avoid future safety problems.
The safety audit followed an incident in July in which an oxygen cylinder blew a hole in the fuselage of a Qantas aircraft, forcing the pilot to make an emergency landing in Manila.
Since then Qantas has been plagued by maintenance problems and was issued with an airworthiness directive to ground its fleet of 737s after it was found that some were missing support clips used to keep the aircraft pressurised.
CASA's deputy chief executive officer of operations, Mick Quinn, said Qantas was failing to meet its own on-time targets in maintaining aircraft. He said there was also a lack of accountability and responsibility between Qantas and its separate maintenance company, Qantas Engineering and Maintenance.
However, he said, the recent string of maintenance-related issues did not have a common cause.
"The review found maintenance performance within Qantas is showing some adverse trends and is now below the airline's own benchmarks. By taking action now, future safety problems will be avoided," he said.
CASA will undertake two additional audits looking at how airworthiness directives are implemented within Qantas and a full "health check" of the three major aircraft used in its fleet, the 747-400, 737-400 and 767-300.
Mr Quinn said CASA would begin observing overseas maintenance work as it is carried out on Qantas aircraft but could not link offshore maintenance with the recent spate of incidents.
"We have audited all the organisations offshore that Qantas use in the last 12 months and we will continue to conduct audits," he said.
Mr Quinn said Qantas' maintenance problems could not be blamed solely on the industrial action taken by Qantas engineers, as some problems were there before the industrial activity.
Qantas chief executive Geoff Dixon said the airline would work with CASA to implement its recommendations.
"These issues are not about safety or compliance and we are working to bring our network performance back to the standards which have earned us a reputation as one of the best and most reliable airlines in the world," he said.
Mr Dixon said responsibilities between Qantas Engineering and Maintenance and Qantas Airways met current regulations. "However, we understand pending legislation may change these regulations and we will work with CASA to make changes prior to the legislation being enacted if requested," he said.
Australian Manufacturing Workers Union national secretary Dave Oliver called on CASA to release its full report on Qantas. "There is very little detail about what they found, what the deficiencies are and they need to spell them out. I understand they are citing commercial-in-confidence for not releasing the report but when it comes to airline safety the Australian public have a right to know," he said.
Mr Oliver said CASA also needed to provide clearer guidance on the quality of work done offshore.
Mr Quinn said he was "not overly concerned" about a Qantas flight from Sydney to London that was grounded at Frankfurt Airport for up to 12 hours because of a "vibration in one of the engines".
"These events that are being really highlighted in the media, from an operational view, I see it as just noise in the system," he said.'
---
2007: 'Qantas hits new turbulence over cheap aircraft maintenance' by Thomas Hunter on Crikey, 18th January 2007.
#FFF380;"> 'Moving its maintenance offshore to cheaper Asian operators is going to be harder for Qantas to justify, with the airline now fending off three separate reports of damage to its aircraft.
On Tuesday, passengers and crew aboard a flight from Sydney to Los Angeles reported a loud cracking noise. The plane turned around and landed without incident. This morning's Sydney Morning Herald reports:
Yesterday, an Australian Transport Safety Bureau spokesman, Julian Walsh, said: "Qantas are still trying to find the source of the problem", but he said no connection had been made to the large cracks discovered on the rear of aeroplane in a maintenance inspection in 2003.
Qantas's head of engineering, David Cox, said a thorough inspection had found no "structural issues" with the aircraft.
That "talking loud and saying nothing" strategy might divert attention for now, but anyone who reads the PPRUNE (Professional Pilots Rumour Network) forums will get a more detailed picture of what possibly happened.
This from one poster:
"After an inspection they found a large crack in the fuselage on a production joint similar to OEC a couple years back."
Came the question:
"Was the aircraft one of the other two ugly sisters [ugly sisters refer to three of the few second-hand planes QF has bought. Most planes QF buys are brand new, but these were three second-hand cheapies] and is the crack likely to be caused by stress risers, paint scrapers, unskilled and el cheapo offshore paint jobs?"
And the responses:
"If these cracks in lap joints are not enough to convince that third world outsourced maintenance is dangerous, then I don't know what is?"
"The damage to OEC was a result of bad practices when the aircraft was repainted prior to joining the QF fleet. This work was carried out overseas by one of the previous owners (Malaysian/Asiana). The cause was metal scrapers being used to remove sealant in the lap joints. QF engineering are supplied ONLY with plastic tools for such tasks. THIS IS WHAT HAPPENS WHEN MAINTENANCE IS CARRIED OUT BY QUESTIONABLE FACILITIES OVERSEAS."
Geoff gets what he paid for. That cheap offshore maintenance seemed a good idea at the time. So did the Titanic."
If, as planned, Australia's national carrier is grabbed by private equity firms who will place much greater pressure on increasing profitability, Qantas's biggest challenge may be living up to its own reputation as the world's safest airline.'
---
2006: 'QANTAS is to close its Sydney maintenance base, shedding 480'
#FFF380;"> 'Press release [9th March 2006] to the ASX from Qantas quoting Geoff Dixon:
Qantas Airways said today it would close its B747 heavy maintenance operations in Sydney by May as part of a major review of all its aircraft engineering operations.
" A longer term commitment to retaining operations in Australia will depend on Qantas achieving competitive benchmarks with the larger global maintenance Repair and Overhaul providers (MROS's) now dominating world aviation"
"Retaining three widebody maintenance facilities in Australia is no longer viable under this scenario. We have one chance to make this this workand we are determined to suceed"
Heavy maintenance for 747's will be transferred to Avalon
Heavy maintenence for 767's will continue in BNE.
A review over the next six months of the airlines narrow body aircraft heavy maintenance currently carried out at Tullarmarine.'
---
2005: 'Qantas move offshore might cost 2500 jobs' (by Scott Rochfort and Nick O'Malley, Sydney Morning Herald, 22nd October 2005)
#FFF380;"> 'Qantas chief executive Geoff Dixon has put himself on a collision course with the unions, after confirming the airline was looking to move "significant parts" of its engineering operations overseas.
Such a move could result in the loss of up to 2500 maintenance jobs.
Citing the recent decisions by Air New Zealand and United Airlines to relocate their long-haul heavy maintenance work overseas, Mr Dixon said Qantas would have to follow suit if it could not make its Australian operations "globally competitive".
He said a final decision would be made by February.
Mr Dixon said, however, that the warning had nothing to do with upcoming enterprise bargaining talks between Qantas and the Australian Manufacturing Workers Union, which represents around 1500 Qantas maintenance staff.
"The bigger issue here is that the industry's changing and it's not about Qantas saying, 'Well gee, I've got a negotiation coming up with the AMWU'," Mr Dixon said.
"It's got nothing at all to do with our EBA [Enterprise Bargaining Agreement]. This is much bigger."
Mr Dixon said the possible maintenance job cuts did "not necessarily" represent the largest component of the airline's plans to cut a further $1.5 billion off its cost base in the next two years. But he argued the airline had created 10,000 job in the past decade. "Not one of these have been created by a union," he said.
The national secretary of the AMWU, Doug Cameron, said: "We are going to fight this industrially, politically and publicly."
Relations between workers and the airline soured in the past year after what unions said had been deliberate intimidation.
"This constant campaign of fear and paranoia is diabolical," said the secretary of the Australian Workers Union, Bill Shorten.
"They have definitely pissed off a lot of people this time."
He said the airline's industrial relations managers were a "bunch of clowns running a media campaign rather than talking to their workforce".
Mr Shorten called on Qantas to stop negotiating through the media and put its cards on the table.
Australian Services Union assistant national secretary Linda White said she was yet to get a clear guarantee Qantas would not sack any of its 2000 call centre staff.
"With Qantas, we'll have to wait until it reaches the front page of a newspaper. That's how they conduct their industrial relations," Ms White said.
Mr Dixon said: "We will not be making firm guarantees to the likes of the ASU."
Qantas also confirmed a further 70 engineering staff could go after it lost a technical handling contract with Singapore Airlines on Friday.
Singapore Air said Qantas had tried to lift the price of the $9 million a year contract by "at least" 30 per cent last week. It said the price hike was closer to 50 per cent, given Qantas had decided to stop providing "pushback, water and toilet" servicing to Singapore Air aircraft.
"We had every intention of recontracting Qantas to provide our Australian-based engineering services. We were surprised in the negotiations that Qantas lifted its rate well above market rates," Singapore Air spokeswoman Kate Pratley said.
She noted Qantas came through with the proposed price increase only a week ago.
Singapore Airlines declined to comment on suggestions Qantas no longer wanted the contract and had used it as a ploy to cut its maintenance workforce.
"It's a question you should ask Qantas," Singapore Air's head spokesman, Stephen Foreshaw, said.
Qantas spokeswoman Belinda de Rome said Qantas was "disappointed" it had lost the contract.
The move comes two months after Singapore Air said it would not renew its ground-handling contract with Qantas, which Qantas said would result in the loss of 200 jobs.'
---
end of article