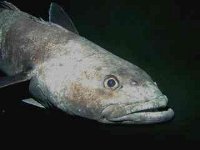 The New Zealand Defence Force early in Janurary surprised a third unlicensed fishing boat, far south-east of Tasmania, illegally poaching toothfish - the ocean's "white gold".   The New Zealand government so far has intercepted three ships with their offshore patrol ship, HMNZS Wellington, in cooperation with the Sea Shepherd Conservation Society.  
(image: head of Patagonian Toothfish)
This summer is Sea Shepherd's 11th Southern Ocean Defence Campaign and the first to target toothfish fishing operators in the waters of Antarctica. Patagonian toothfish, a species of cod icefish, can grow up to 10 kilograms in weight and are a highly prized eating fish.