Search for another food bowl:
The National Water Initiative, agreed in 2004 by the Council of Australian Governments, provided a national blueprint for water reform. The National Water Initiative recognised that, as the reality of changing water resource security in the south is better understood, there would be a need to consider the potential for other parts of Australia, such as the north, to support future land and water development.
One element of the plan was to establish the Northern Australia Land and Water Taskforce to address its enquiries to the key surface and groundwater systems within the Timor Sea and Gulf of Carpentaria drainage divisions and the North East Coast drainage division north of Cairns. 
The Taskforce concluded that developing Northern Australia as an integrated, sustainable region was a complex policy challenge.
On paper at least, the figures are indeed astonishing: some one billion litres of rain dumps on northern Australia each year. Could the north satisfy not only Australia's rapidly growing population, but also the future needs of our Asian and South Pacific neighbours?
It seems not. Or at least not to that degree according to a three-year Federal Government study into the sustainable development of northern Australia. It also points to the damage that high rainfall can do, stripping away top soil, leaving the ground infertile.
The Top End is governed by its two seasons - the wet season from November to April when it's a deluge, and the dry, when the taps are off. The north still has that powerful hold over people's imagination.
Projects such as the Green Hills dam on the Gilbert River near Georgetown, a dam on the Flinders River at Hughenden, and other water storage facilities researched for the Flinders at Richmond and Julia Creek and along the Norman River have proved to be pipe dreams for those western communities.
The CSIRO water study, presented to the taskforce last year, found there was not enough water to irrigate large swaths of land in the north without doing major damage to the rivers and the surrounding environment.
The taskforce recommended no new dams, but advocated a mosaic of small-scale irrigation systems "that have carefully combined arable land with available water".
In other words, for all the southern Murray-Darling Basin's problems with record drought and the threat of a drying, warming climate, the Northern Australia Land and Water Task Force report found that northern Australia has only limited potential for expanding irrigated agriculture and horticulture – between 20,000 and 40,000 hectares, compared to about 1.4 million hectares in the Murray-Darling Basin.
Northern Australia's rich biodiversity and strong Indigenous cultures are world renowned and should form the basis for sustainable economic development across the region.....There can be a strong economic and conservation future for northern Australia, but it will lie in the development of industries that are well suited to the region, such as tourism and good management of fisheries and land, says Don Henry, ACF executive director.
ACF believes a sustainable future, particularly for Indigenous communities, lies in increased opportunities in these industries.
The Murray-Darling Basin
The Murray-Darling Basin covers 1,061,469 square kilometres or approximately one-seventh (14%) of the total area of Australia (7,692,024 square kilometres).
It is the lifeblood for eastern Australia, stretching 1,061,469 square kilometres through Queensland, New South Wales, Victoria and South Australia. The three main river systems that make up the Murray-Darling Basin include the Darling River, the Murrumbidgee River, the Lachlan River and Billabong Creek; and the Murray River itself.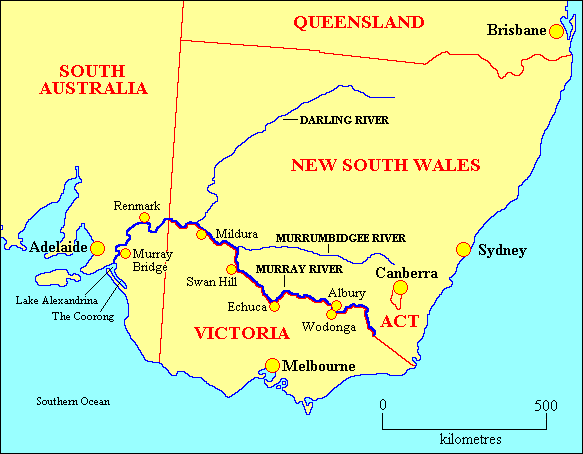 It contains over 40% of all Australian farms, which produce wool, cotton, wheat, sheep, cattle, dairy produce, rice, oil-seed, wine, fruit and vegetables for both domestic and overseas markets. As Australia's most important agricultural region, the Basin produces one third of Australia's food supply and supports over a third of Australia's total gross value of agricultural production.
The Basin's most valuable resource is water.
The Murray-Darling Basin is home to a large number of different plants and animals.
About the Murray River
It has at least 35 endangered species of birds, 16 species of endangered mammals and over 35 different native fish species. Unfortunately, 20 species of mammals have already become extinct.
The Murray-Darling Basin is one of the richest sources of Indigenous archaeological and heritage sites in Australia. There are many hundreds of significant Indigenous sites along
the River. They include scarred trees, burial sites, campsites, canoe trees, hidden sites and earth sites.
Almost the entire Basin had been explored and occupied by Europeans within 50 years of the crossing of the Great Dividing Range. The development of a European way of life resulted in unintentional degradation of many of the Basin's natural resources. This lack of knowledge about soil, climate, and geology of the Murray-Darling Basin has led to serious environmental problems including salinity, rising water tables and excessive vegetation clearances.
A 2001 report:
Forty per cent of the river length assessed was impaired, having lost a significant number of aquatic macroinvertebrates expected to occur there.
Ten per cent of river length was found to be severely impaired, having lost at least 50 per cent of the types of aquatic macroinvertebrates expected to occur there.
More than 95 per cent of the river length assessed in the Murray-Darling Basin had an environmental condition that was degraded, and 30 per cent was substantially modified from the original condition.
Native vegetation is currently being threatened by rising salinity (salt) levels; human-made changes to flooding and drying areas; and careless campers, boaters and land-developers. Nevertheless, with climate change threatening to make matters worse, finding a solution to the water crisis is becoming more urgent.
Salinity
Close to half of Australia's saline seepage is located in Murray-Darling Basin, especially the Lower Murray-Darling.
Three processes greatly increase the rate of salinisation: land clearing, erection of river structures, and irrigation.
Land Degradation
The main forms of land degradation are:
Soil erosion (see image right)
Water logging
Salinisation
Acidification
Land degradation is one of the most serious environmental problems in Australia.

Algae and nutrient pollution
Processing and re-use of sewerage (as fertiliser) is the easiest and least expensive option being examined, as over 200 towns with a combined population of over 1 million dispose of sewage into the Murray-Darling basin.
The more difficult problem of decreasing the use of fertiliser by farmers has yet to be seriously addressed.

Wetlands
The clearance of forests and the modification of flood plains has resulted in significant decline in biodiversity in the Murray-Darling basin system. Furthermore, the introduction of exotic species of trees (willows, poplars, blackberries etc.) has further degraded channel vegetation.

Fisheries
Decline in water volumes and changes in river levels
change in river flow regimes invasion of introduced species (especially the European carp)
water quality degradation (especially due to the rise in turbidity and salinity due to soil degradation and the
impacts of pesticide and fertiliser use),
cold water pollution from dams and
overfishing.

Environmental flows for the Murray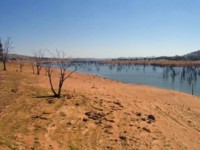 (photo: Lake Hume from Bethanga Bridge)
The Murray River has poor water quality, it has lost native plants, animals, fish, forest, and wetlands, and has experienced an increase in the presence of pests such as European carp (MDBC, 2002). Additionally, the health of the river is expected to decline further if the present management system is not changed.
A main cause of this decline is found to be the large amounts of water being taken from the Murray for irrigation and other uses. But, whilst the declining health of the Murray River is recognised by government, agricultural, and conservation groups alike, the competing uses and values ascribed to water mean that, although many accept the need for increased water flow, the decision-making process is decidedly complex.
Under Water for the Future the Government has committed $3.1 billion over 10 years to purchase water in the Murray-Darling Basin. The program will complement a range of other measures to achieve sustainable water management in the Basin. Buying water entitlements for our rivers and wetlands; and extensive investment in more efficient irrigation systems.
As salt levels rise and the river dries, tube worms have travelled upstream, building their homes on the native turtles – and just about anything else they can find. The marine worms attach themselves to the backs of the turtles, colonising them until they are so weighed down they drown.
There have been warnings of impending disaster for the Murray–Darling Basin for more than a decade, but here near the mouth it is suddenly real and shockingly rapid. Inflows to the Murray system remain at record lows. The removal of water for last summer's irrigation, coupled with evaporation, has seen lake levels plummet. Since 2002, however, the mouth at Goolwa has been kept open only by constant dredging.
Read more about threats Australia Geographic site
The Murray-Darling decline remains the single largest natural disaster in this country since European settlement. Unlike the other natural disasters we are currently facing, this has been a long, slow process (over the past several seasons), and has generally remained 'below the radar' for most of the media/general public. Many of the horticultural growers are now forced out of business by an ongoing series of disasters (frost, hail, heat wave) compounding the Irrigation Drought, and are not simply comprised of small ('marginal' or non?viable) growers.
Coorong
The collapse of the Coorong wetlands at the mouth of the Murray River is shaping up to be one of the Australia's worst environmental disasters. Bird numbers in the region have fallen dramatically and freshwater turtles continue to die in large numbers. Professor Richard Kingsford said estimates of waterbirds for the region were 250,000 in November 2007 but a similar survey last year showed numbers had declined 48 per cent.
The absence of refreshing water from the Murray means The Coorong – listed under the international treaty for the conservation of wetlands, the Ramsar Convention – struggles.
Food Bowl Tasmania
The Premier of Tasmania, David Bartlett chose a lettuce farm on the outskirts of Richmond to spruik his long held vision of Tasmania as the nation's food bowl as an election issue. Labor has a plan for the future that absolutely incorporates irrigation and developing Tasmania as a food bowl but more to the point developing Tasmania's irrigable land such that prosperity continues to flow, he said.
Mr Bartlett said he stood by his claims that as the Murray-Darling dries up, Tasmania, with 13 new irrigation schemes delivering 250,000 megalitres a year, could become Australia's strongest food-growing region.
Intergenerational Report
The 2010 Intergenerational Report just released by the government "predicts" (plans) an increase in Australia's population by 2050 to more than 36 million, of which 22 per cent will be over 65 years old.  This larger population will need to be fed, so Australia will have to ramp up our food production to avoid becoming reliant on expensive imported food.
The Intergenerational Report said Australia's population was "expected" (engineered) to grow to 35.9 million in 2050 from 22.2 million in 2010.
Peak horticulture body Growcom said the 36 million Australians would need economical, fresh and healthy food supplies. "Sustainability" has no meaning if a massive area of rivers and ecosystems and a rich biodiversity cannot endure the commercial and domestic impacts of population, industries and agriculture.
There is no national plan in place to guarantee that arable land with suitable water and climatic requirements and adequate infrastructure will be available in the future to guarantee our food supply, Growcom CEO Alex Livingstone said on Wednesday.
Our environment for "food bowls" is limited in Australia, and we are already seeing the impacts on Ramsar wetlands, extinctions and species threats, the Great Barrier Reef, the Murray Darling food bowl, the red river gums and loss of old-growth forests.
There is not one long-term problem that can be solved by larger cities. Like the Titanic, a larger population make it harder to avoid the environmental catastrophes predicted from climate change and human impacts.
Kevin Rudd has declared that climate change is the moral challenge of our times, but while he is importing some 500,000 new immigrants from overseas each year, accounting for 60% of our growth, he is clearly contradicting himself. One-issue parties, based on economic growth, will find it hard to address environmental and climate change issues while they are addicted to limitless growth - at all costs!
Photos courtesy of Wikimedia commons: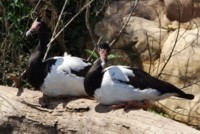 Magpie-goose -locally extinct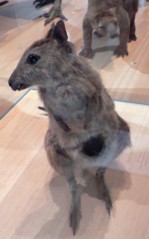 Eastern Hare wallaby -extinct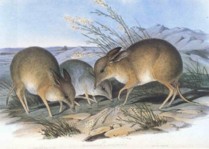 Pig footed bandicoot -extinct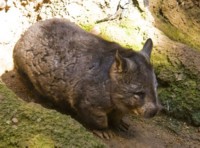 Southern hairy nosed wombat -endangered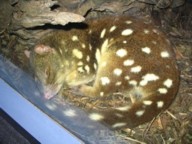 Spotted tail quoll -endangered
Phascogale_calura -endangered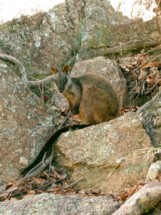 Brush-tail rock wallaby -endangered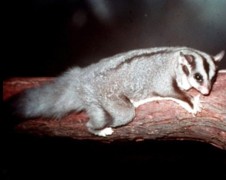 Squirrel glider -endangered