Overspending Brimbank City Council is trying to sell off 14 - yes, fourteen- parks and open space against the reasonable objections of Brimbank Residents, who they are supposed to serve. Have you ever heard the like? How dare they? If other Victorian fail to stand up to support the residents of Brimbank on this, such processes could be normalised - and we will all be living in a concrete wasteland, not just Brimbank residents. For some history of Brimbank profligacy and corruption, see ""Local Government Corruption & Brimbank: focus too narrow says Marilyn Canet" See also www.protectorsofpubliclandsvic.com.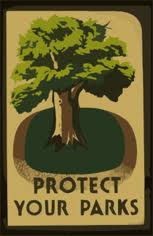 Yet another issue of democracy and environment in Melbourne
"In June Brimbank residents heard of plans to sell "surplus land" i.e. 14 parks/open space by the cash strapped Brimbank City Council (now administered by "Administrators" since the Brumby Government sacked the Councillors.) Since then residents have conducted a great campaign to oppose sale of their parks," writes Julianne Bell, of Protectors of Public Lands Victoria (PPL VIC).
"We urge you to support residents of the Western suburbs to help save their parks. PPL VIC members will remember the appalling plan advanced by Corangamite Shire Council several years ago to fell the avenue of 100 year old 550 elms along the main street of Camperdown (plus elm avenues in surrounding streets.) . The CEO at the time was a Mr. Paul Younis. Mr. Younis is now the "general manager for infrastructure and environment" in Brimbank advocating the sale of parks. Need we say more!"
Which public spaces and natural areas are threatened?
The proposed sale of "Surplus Land" under Section 189 Local Government Act 1989, involves the following open spaces and parks across the municipality, particularly the 14 sites at:
• Trickey Avenue, Sydenham
• Kealba Pre-School, Kealba
• 16A Cobb junction, Sydenham
• 3A Lewis Court, West Sunshine
• 8 Vasa Place, Keilor Lodge
• 66-77 Nordic Avenue, Keilor Lodge
• Stevenage Crescent, Deer Park
• 7A Patterson Avenue, Keilor
• Ulmara Place, Keilor Downs
• 2 Zagreb Court, Keilor Downs
• 147 Alfreida Street, St Albans
• 10-12 Marchant Crescent, West Sunshine
• McCourbrie Avenue, West Sunshine
• Cohuna Court, Taylors Lakes
What these sales will cost the community if they go ahead
These properties are publicly owned open spaces which are well utilised by local residents who enjoy the open space/parks for "passive" recreational purposes and socialising. The parks provide safe recreation areas for residents including children and the elderly. There is an epidemic of childhood obesity in Victoria – one third of children are overweight or obese. It is discriminating against the children of the Western suburbs to remove their accessible neighbourhood play areas. The sale and "development" of park land will mean high density housing (units) which will over-shadow and overlook established neighbours. Elderly people need natural spaces too, to maintain health and to socialise. Sale and "development' of such areas will lead to over parking of local streets and an increase in local traffic. This will mean a general decline in residential amenity. Given the rapid increase in population in the Western suburbs, Commissioners should be significantly increasing areas of parkland in the municipality not selling it off. Increasing population density and activities where parkland once was will cause additional stress on already over the already strained local infrastructure and services.
Residents have made passionate statements in defense of these parks, some of which have been reported in the mainstream press, here and here.
#WhatYouCanDo" id="WhatYouCanDo">What you can do to stop this public land-grab
Write to Mr Peter Lewinsky
Chair, Panel of Administrators
City of Brimbank
PO Box 70
Sunshine 3020
Email: PeterLE [AT] brimbank.vic.gov.au
Tell him what you think. Use this article to help you form your comments.
Please also send a copy to us (by, for example, posting a comment to this article) and to Protectors of public Lands (Victoria) Inc by e-mailing jbell5 [AT] bigpond.com .