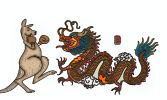 - Monumental foreign policy decisions cannot be made without any public engagement behind closed doors.
- A nuclear-powered submarine fleet will represent a fundamental threat to global peace.
- Aukus cements Australia as a subordinate of the U.S. (Independent Peaceful Australia Network - IPAN)
"The shocking announcement of a trilateral security partnership between the U.S., U.K. and Australia (Aukus), which will be tied to Australia receiving nuclear submarines, is a blow to Australia's independence and peace in the region.
The security partnership, Aukus, was announced without any public scrutiny or engagement.
While China was not mentioned in the announcement it is clear that this partnership is designed to confront and contain China, in a belligerent and dangerous manner." (IPAN)